Carrie Hampton lay by the Khwai River Lodge pool and only awoke from her safari siesta, if someone shouted 'lion.' Which happened on more than one occasion! Read on for her personal review of Khwai River Lodge in Botswana's Okavango Delta.
This bridge over the River Khwai is not the same one as in the famous film. This small thin rickety old thing is made of logs tied together with bits of wire, in typical African fashion. At one end of the Khwai River bridge is the entrance to Moremi Game Reserve - a Botswana Government National Park. At the other end is a private game concession, and in it my accommodation at Khwai River Lodge. As a visitor, you will hardly know the difference between Moremi and the private concssion, as the
animals of the Okavango Delta
are free to roam where they will.
A Luxury Room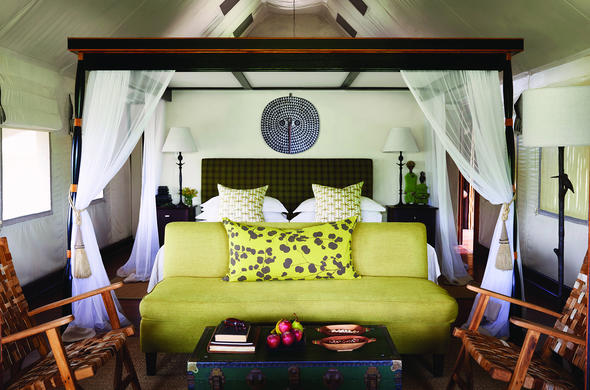 Khwai River Lodge provides every luxury you need, and probably more than you ever expected. The
spacious en-suite tented rooms
only resemble a tent because of their canvas walls. The door opens with a handle, the floor is wooden and the bathroom has hot and cold running water, a flush toilet, huge white towels and plenty of hanging space. The aircon is very efficient and acts as a heater on cold winter nights, with an additional winter treat of a hot water bottle in your bed.
On the desk is a telephone connecting you to the main lodge, (but not to the outside world), and in the drawer is a hairdryer. The walk-in
mosquito net swishes around the bed
and gives it a four poster feel. With all these amenities, it is only when you look outside that you remember you are on safari in the middle of Africa.
Watch Africa from your Balcony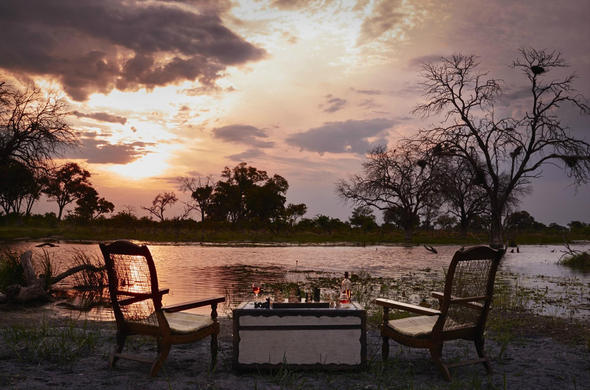 The
African bush is right on your doorstep
, and you can watch animals go by from your private balcony, equipped with a couple of easy chairs with throws for chilly evenings, and a large swinging hammock. Hippos pop their head out of a pool in the shallow river and grunt. Elephants regularly walk past and may even feed on the trees shading your room. Antelopes graze quietly until suddenly startled by a lioness looking for a quick meal. I saw all this without moving from my veranda at Khwai River Lodge.
Wild Relaxation
I spent a few lazy hours lying by the
Khwai River Lodge swimming pool
, which was perfectly positioned with a view of the surrounding plain and river. I raised my head when someone shouted 'lion' or 'elephant,' and only moved if they seemed to be coming my way. Which did happen a couple of times! I also moved for the pleasure of a neck and shoulder massage in the Khwai River Lodge Naturally Wild Spa, which offers all sorts of feel good therapies and a gymnasium for those who are missing out on exercise.
Creatures of the Night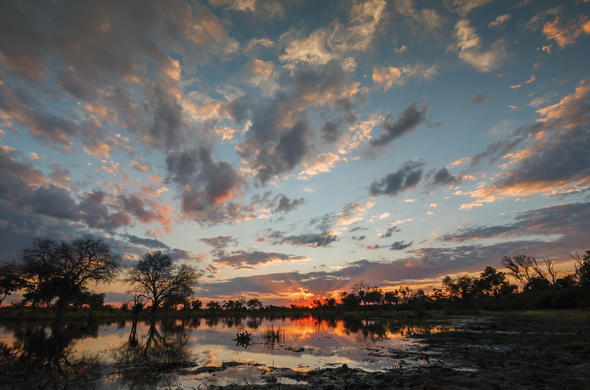 After dark we were not allowed to walk to our rooms without an escort, as creatures of the night regularly come into camp (usually after people have gone to bed, but not always)!
Lion, leopard and hyena footprints
are constantly seen along the camp paths in the morning.
Khwai River Lodge is one of the oldest safari camps in Botswana, but you would never know by looking at it. It has had a revamp and looks as good as new. Lots of wood, thatch and beams and a scattering of wooden hippos for decoration, just in case you missed the real thing right in front of you! A little flair from an interior designer would help bring out the best in the rustic ambience.
Dinner is Served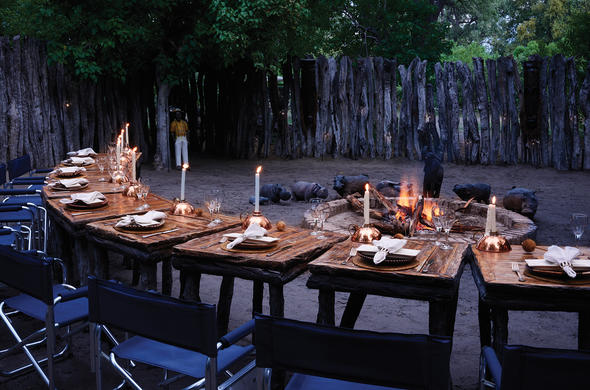 Apart from the lack of exercise when on safari, (although Khwai River Lodge do conduct guided walking safaris), most weight gain can usually be attributed to
overindulgence in food
. There always seems to be something available to nibble on; you can eat a light breakfast before the morning game drive and have brunch after it, then afternoon tea between lunch and supper.
Much of the Khwai River Lodge
food is uncomplicated
, without pretensions of grandeur. Your guide sits with you at the evening meal, whose menu is announced by one of the staff. In broken English, he or she announces what you are about to receive, which may leave you no more the wiser, but is a charming way start the evening anyway. The evening meals were very tasty and presented with flair. The  house red and white wines were very acceptable, and there was a choice of some
excellent a la carte wines
, for the discerning palate.
Friendly Guides
Khwai River Lodge is the
signature safari lodge for Orient Express S
afaris in Botswana, probably because it is the most established and best known, and not because it is better than the other Orient Express Safari camps, (Savute Elephant Camp and Eagle Island Camp). Each camp has its own distinctive safari experience and camp atmosphere, which is in part determined by the camp managers and guides.  Khwai River Lodge's atmosphere was ennobled by its
friendly, helpful guides
, many of whom grew up in the area and who are always happy to chat around the nightly camp fire.
Other cultural encounters are limited to a harmonious African welcome song, sung by the staff on your arrival, and viewing crafts and curious made by local villagers, available in the Khwai River Lodge shop.
Best Safari Deals
There are several safari companies in Botswana, who own a number of safari camps and lodges dotted around the prime destinations. If you book a package where you stay in more than one lodge belonging to the same company, you will get a much better nightly rate than if you chop and change between companies. Orient Express Safaris have three safari camps/lodges in Botswana; Eagle Island Camp, Khwai River Lodge and Savute Elephant Camp.
© Carrie Hampton.
This article is written by Travel Writer, Carrie Hampton, who is under no obligation to state anything other than her personal opinion. This article may not be reproduced in any form without permission.