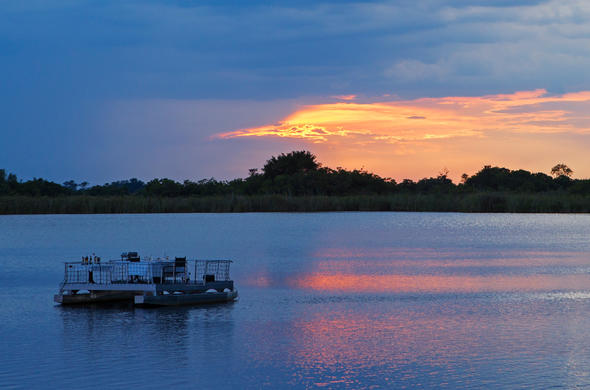 © Floating sundowner deck
Situated on a wooded island on the edge of the Okavango Delta, Xugana Island Lodge is a place of timeless tranquillity. The lodge accommodates just 16 people in raised reed and thatch chalets, each with en-suite facilities and private decks looking out to the Xugana Lagoon.
It's a short 40-minute boat ride from Camp Okavango and transfers between the lodges are by high-powered speedboat. Along the way we see a wealth of wildlife. Shy red lechwes graze nervously on a floodplain and leap away as we pass. The bird life is plentiful. A fish eagle perches on a tree and others species sighted are kingfishers, cormorants and a large saddle-billed stork. Just before we leave the main channel, we stop to watch a 5 metre crocodile lying among the tall papyrus.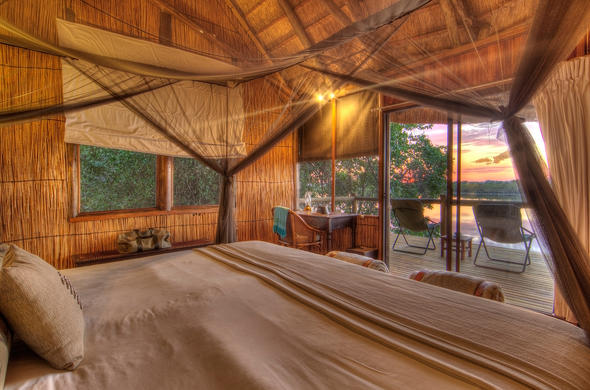 After settling in and a short siesta at the pool, my guide Moruti Maibelo fetches me for an afternoon visit to the hippo pool. We cruise along the narrow twisting channels, stopping often to watch the amazing bird life and beautiful water lilies along the way. After a final few sharp turns, we enter the large lagoon where more than 100 hippopotami are resident.This lagoon is one of the best places in the Okavango Delta to view hippopotamus and a National Geographic film team are due to arrive here soon to make an underwater documentary. 'I hope they know how dangerous these animals are before they start swimming in the lagoon with them,' smiles Moruti. 'More people get killed in Africa every year by hippos than by any other animal. But they can also damage our boat if they get up too close to us so we need to watch them and be careful,' he says as he positions us near a pod of five of the huge beasts.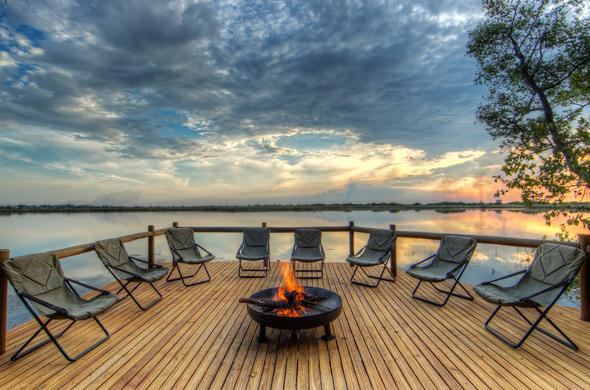 Hippos can stay under water for up to six minutes and their lumbering shapes often slip below the surface, leaving just a trail of bubbles for us to follow. We spend an hour watching them watching us, their beady pink eyes protruding just above the water level. Then occasionally, one launches itself out the water, guffawing loudly in a fearsome display of body, jaws and teeth.The afternoon slips quickly by and we arrive back at Xugana Lagoon just in time for sunset. There's not a breath of wind and the dappled clouds are reflected perfectly in the dead calm water. The setting sun dips below the banks of clouds and the big red ball turns the glassy surface of the lagoon into a tranquil pool of liquid gold.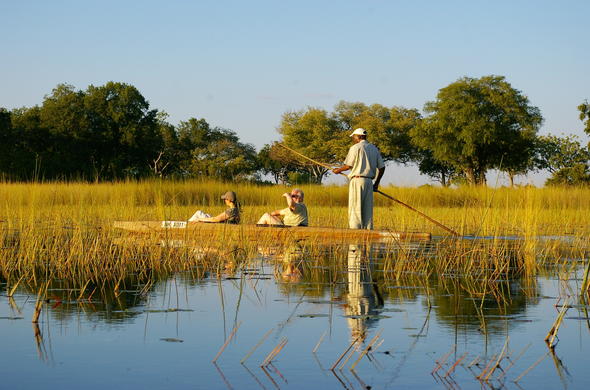 After a delicious dinner on the floating deck under the stars, I sleep soundly and wake refreshed for my last morning in Botswana. Just before sunrise we set out for a hike around Sausage Island, so called because of the many sausage trees. Not a ripple breaks the glassy surface of the delta as we arrive in a small lagoon near the island. We secure the boat on land and watch the sun rise in an explosion of red that reflects pink and purple patterns across the water.In the soft morning light we walk past giant leadwood and African mangosteen trees where a troop of baboons play noisily in the branches. It's hard to imagine that later today I'll be back in the sounds and sirens of South Africa when I'm currently walking in this untamed wilderness.

We hike on and up ahead a family of giraffe watch us warily before ambling gracefully away. In another clearing, a lone elephant stands on his hind legs to pluck foliage from high up on a sausage tree. In a shallow floodplain, reedbuck and red lechwe eye us suspiciously. Then they gallop away through the plains.
By Jeremy Jowell
Copyright © 2002 Jeremy Jowell. All rights reserved. Reproduction in whole or in part without the permission of the author is prohibited.