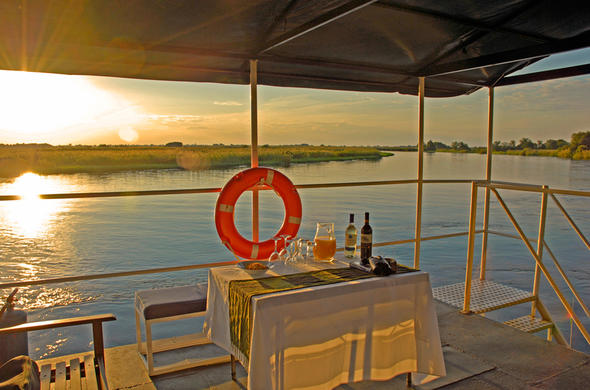 © Sundowners on the Okavango Panhandle aboard the Kabbo house-boat
Panhandle Journals: September 1992:
There was a lull in activity so I put my fishing rod aside to take in my surroundings - reeds and papyrus, sandbanks, floodplains and islands made up my immediate surrounds. A crocodile lay on one of the sandbanks. ..... this would be a great place for a different safari experience I pondered. ..... but soon the boat was moving and my thoughts were broken. ...'
Tigers and Sitatungas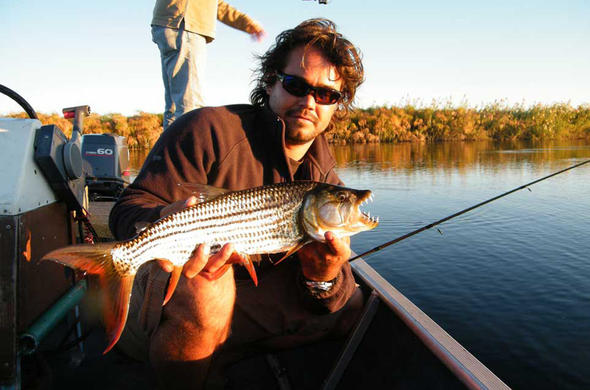 The Okavango Panhandle is renowned among fishermen as a place of the legendary fighting tiger fish and bream - bird watchers have recently become interested in the area for its Okavango specialities such as the Pels fishing owl, and photographic safari-goers are beginning to take note, exploring the channels in luxury houseboats.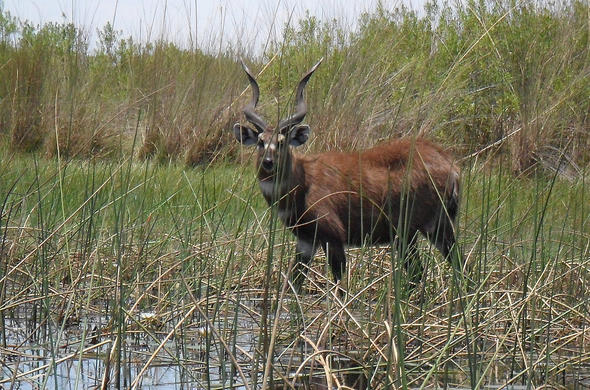 Although the Panhandle area is not known for its big game there is a
variety of wildlife to be seen
such as hippo, crocodile, lechwe and the elusive sitatunga antelope. The sitatunga is an aquatic antelope that spends its time in the thick vegetation of the waterways, occasionally coming out into the open to feed.
Panhandle Journals
The meandering waters of the Panhandle lazed out on my right. After taking a few images I put my camera down to enjoy the view from the air. The plane banked and I glanced quickly to my left and a strange outcrop caught my eye. Blue from a distance the sight was nonetheless haunting. I glanced at the map on my lap and soon realised that the hills I was looking at were the well known San spiritual grounds of the Tsodilo Hills ........ I was to be spending some nights on a houseboat on the Panhandle and visiting the Hills during my stay ......'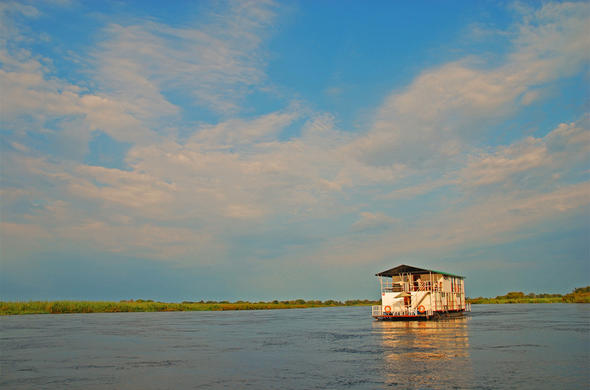 The "Kabbo" house-boat. The best way to get around and see the Okavango Panhandle...By Leigh Kemp