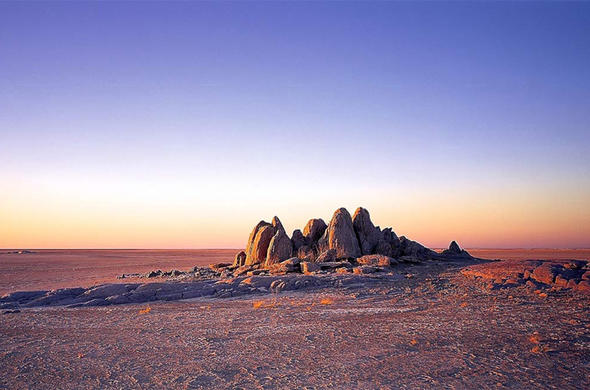 © Rocky outcrop. The highest point for miles. Makgadikgadi
The Central Kalahari in Botswana has many fascinating features, none less intriguing than the clay pans that are found periodically on the landscape, that hold water long into the dry season.
The pans are an integral part of the Kalahari and many are named, the meanings mostly of unknown origin and many that have probably never been seen except by the original inhabitants of the Kalahari.
The life cycle of these pans generally involves a time filled with water during the rainy season, before shrinking to mud and algae. The algae give the pans a reddish look before the dry season takes hold and the algae shrivels. The pans in the dry season are either dry cracked clay, or white powdery salt depending on their location.
The most famous of the pans is undoubtedly Deception Pan, so named because of the weird mirage-type illusion of beautiful blue water when viewed from a distance at certain times of the day.
What causes the illusion is uncertain but at certain times of the day the clay in the pan can have a blue tinge when seen from close up. The illusion has confused even the most seasoned of travelers to the Kalahari, and in particular pilots who become quite irate when told that it is an illusion.
One of the most fascinating aspects of the pans of the Kalahari happens after
heavy rains have fallen
and the pans become waterlogged - massive bullfrogs appear from the mud where they have spent the winter. The night is filled with their calls and these amphibians, some reaching up to 20cm, feed and mate before heading back into the mud with the drying of the pan.
Pipers Pans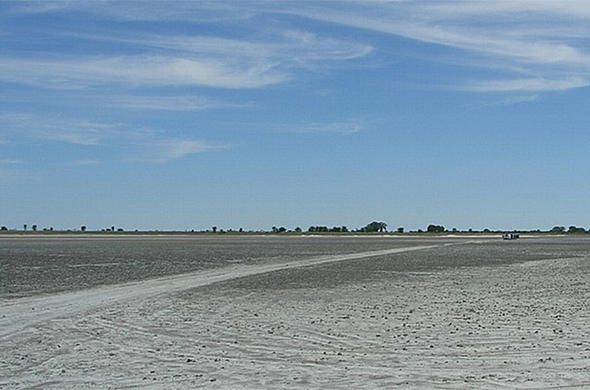 Deception Valley seems to rise in a series of beautiful pans known as Pipers Pan. Here is a
place of extraordinary beauty
, a place where pans of differing sizes and soil types fuse into a pattern of intricate ecosystems.There are parts of the main pan that are covered in waving grass, with scattered clumps of bushes where lions often lie up during the heat of the day. Meerkats and ground squirrels inhabit the edges and birds of prey patrol the treeline on the ancient shorelines.
Sundays Pan
Another of the better known pans in the Central Kalahari is Sundays Pan, a
large crater-like pan
surrounded by relatively high dunes. In the pan are some acacia tree islands that provide shelter for the wildlife of the area during the scorching hot days.
Visiting the Pans of the Kalahari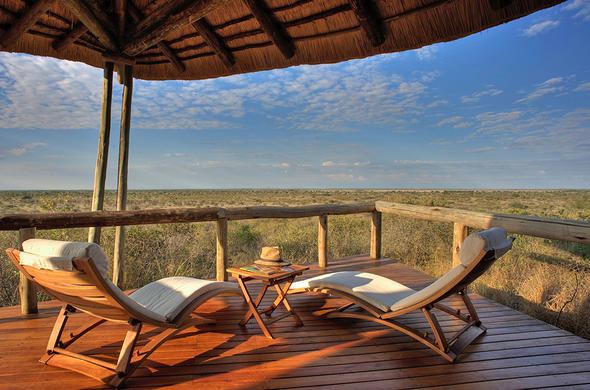 The most popular ways of getting to the Central Kalahari is on a self-drive 4x4 safari or on a
Central Kalahari safari in Botswana package
. The campsites in the Central Kalahari Game Reserve are set up to enable the best experience possible.Two exceptional safari lodges have been established in the Central Kalahari Game Reserve for those travellers who want to experience this incredible desert wilderness, without having to rough it: