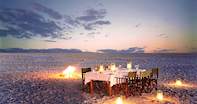 Experience a Botswana safari unlike any other on this 3 day Fly-in Classic Makgadikgadi Safari, where silence and space are your companions and an ancient culture your teacher. Includes flights ex/to Johannesburg.
Overview
Accommodation: Old style classic tented camp with en-suite facilities
Activities: Game drives, quad biking, walking with Bushmen
Destinations: Maun, Makgadikgadi Pans
Seasonal: All year round safari destination - dry season May to October, rainy season November to April
Fly-in Classic Makgadikgadi Pans Safari Experience
This Makgadikgadi Safari Package showcases one of Africa's most unique safari travel destinations in the vast and silent Makgadikgadi Pans of the Kalahari Desert, a place where absolute silence is your comfort and the curvature of the earth can be imagined on the distant horizons.
Depending on the season, it may also be possible to see the largest migration of land mammals in Southern Africa, when almost 30 000 Zebra move through the area in search of the new grass after the first rains of the season have fallen.
The wildlife of the area is also unique, having adapted to the dry and arid conditions of this part of the Kalahari, where remnants of a vast inland lake have manifested in the largest salt pans in the world.
Day 1: Johannesburg - Maun - Makgadikgadi Pans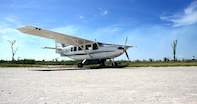 Today you will fly from Johannesburg O.R. Tambo Airport to Maun from where you will catch a flight in a light aircraft to your camp on the edge of the vast Makgadikgadi Pans in the Kalahari Desert, arriving in time for lunch. The area will awe you with its immensity and the silence will comfort you.
The activities during your 2-night stay include game drives in search of the unique wildlife of the area and quad biking on the pans and a nature walk with the Bushmen.
Day 2: Makgadikgadi Pans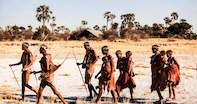 The day is filled with discoveries, seen through the eyes of the original inhabitants of the area, the Bushmen, who accompany you on your activities and share their intimate knowledge of the Kalahari with you. Learning survival skills and an appreciation of earth's wonders provide some of the most rewarding safari activities in Africa.
The Makgadikgadi Pans are home to the rarely seen Brown Hyena and other fascinating creatures which can be seen on game drives and walks in the area - with another incredible activity being a quad bike ride on the pans where the appreciation of space and silence is gained.
Day 3: MakgadikgadiPans - Maun -Johannesburg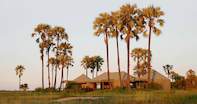 This is the final day of your Makgadikgadi Pans Safari Package. There will be time for a last activity in this amazing wilderness before breakfast. You will be transferred to the airstrip for your light aircraft flight to take you back to Maun, where you catch your onward flight to Johannesburg O.R. Tambo Airport after an unbelievable safari in the Kalahari.
Included
Return flight from Johannesburg per scheduled departure
Light aircraft flight ex/to Maun
2 night's accommodation
Laundry service
Scheduled camp activities and expert guiding
Food and beverages
National Park entrance fee
Not Included
Premium brands, imported wines, champagne, spirits and liqueurs