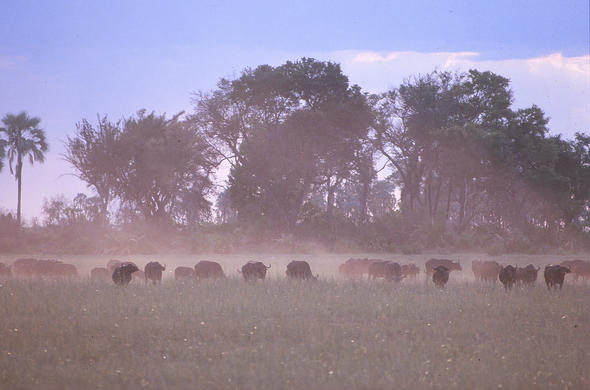 © Dusty dawn and buffalo at Chobe River
The buffalo herd, almost 500 strong, was moving towards the ridge but the dust was still hanging in the morning air...
Chobe Journals: Place of Dust
Chobe Journals: November 12: 'The floodplains were empty, cleared overnight, except for an itinerant impala herd. Yesterday clouds of dust could be seen all along the Chobe River from the herds that were coming down to drink but now there were no elephants or buffalo to be seen.
Africa's greatest concentration of elephants had disappeared overnight. I could sense that the guests were disappointed but for me there was excitement at the ever-changing seasons of Africa'.
Liberation of the Elephants
A one-time stopover for wildlife in their constant search for food and water, the Chobe River became a dry season refuge for the wildlife with outbreak of the war of liberation in Namibia. Animals that crossed the river were shot for meat and tusks.
With the migrations halted the animals concentrated on the river during the dry season and today Chobe has the highest concentration of elephants in Africa. The liberation war is over and the animals are starting to move back into areas of past migrations but the legend of Chobe continues.
Chobe Journals: June 27:
'The buffalo herd, almost 500 strong, was moving towards the ridge but the dust was still hanging in the morning air. The scent of dust mingled with the sharp urine and faeces scent of the buffalo herd - three elephant appeared out of the dust and from the corner of my eye I caught the sight of a lionesses moving toward the buffalo herd. A while later there was a bellow of warning and I heard the stampede ....'
By Leigh Kemp