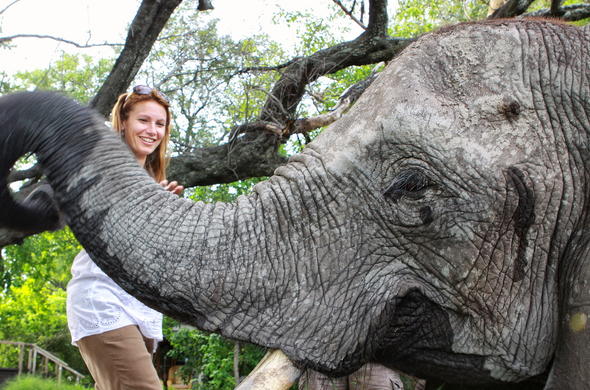 An Okavango safari in Botswana is a sensational adventure but including an Elephant interaction is a memorable and unique experience.
In keeping with international ethical conservation and wildlife practices, Elephant-back safaris have been phased out by most safari lodges and tour operators and has been banned in Botswana from 2017. An excellent alternative is an Elephant interaction which can include feeding the Elephants, watching them take mud baths and walking with Elephants.
The Okavango Delta is an awesome wildlife sanctuary in the Kalahari Desert - it offers a miraculous supply of water that feeds a complex eco-system. From the air the Delta looks like a giant fan, and on the ground it offers a wonderland of river channels, islands, lily-covered lagoons and contrasting floodplains.
So for the opportunity of a lifetime, follow your heart and take a walk with these giants in this exceptional African wilderness, here are 3 camps where you can enjoy Elephant activities while on an Okavango safari:
Abu Camp

At
Abu Camp
you can interact with 7 members of a resident herd of Elephant which is led by the matriarch Cathy. Some herd members have been rescued from difficult circumstances or have been born at Abu, but all have interesting life stories. Abu Camp, where possible, releases Elephant that it has been caring for back into the wild.
When visiting Abu Camp you can enjoy an Elephant Experience including walks with Elephants and the opportunity to talk to local researchers about Elephant conservation issues. In any case, you'll be able to physically interact with herd members and gain incredible insight into their behaviour and personalities.
Beautiful Abu Camp is located in a private concession in the south-west Delta and features a range of habitats, plentiful water and vegetation plus an abundance of wildlife which includes wild Elephant herds. It's the perfect sanctuary for the Abu Herd.
Activities
at Abu Camp include Star Bed sleep-out's with Elephants, Elephant walks, mud baths and interaction, game drives, mokoro safaris (traditional canoe rides with a poler / guide), birding and scenic flights over the Delta.
Baine's Camp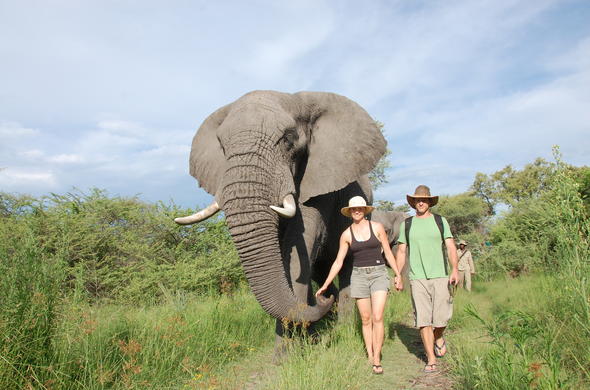 Meet Jabu, Thembi and Morula, orphaned Elephants that have been taken into the hearts of everyone at both camps! These remarkable adult Elephants are semi-habituated and act as guides on special bush walks. The Elephants set off each morning to inspect their home range and a few guests can accompany them for a safari experience like no other.
You'll be able to see how they take a shower in lagoon waters, search for fruit in nearby trees and use their dexterous trunks to pull leaves from branches. You'll be able to interact with these gentle giants while walking at a leisurely pace and later observe them as you enjoy a welcome picnic lunch.
Baine's Camp
is an intimate camp situated on a private land concession beside the renowned Moremi Game Reserve. There are no fences between the reserve and surrounding concessions so wildlife is abundant and all of the Big Five are present.
Stanley's Camp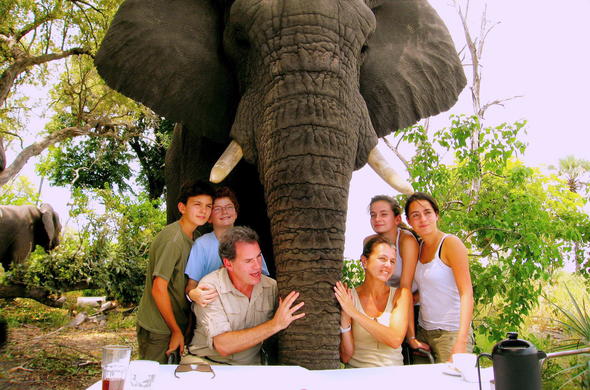 Stanley's Camp
shares the same concession as Baines Camp, but overlooks the Okavango floodplains which demonstrate great seasonal variations. From this lovely tented camp you can watch huge herds of game march across the savannah.
Activities
at both camps include Elephant Interaction, game drives (seasonal night drives), walking safaris, birding, motorboat excursions and mokoro safaris (traditional canoe rides with a poler / guide) as well as scenic heli-flights over the beautiful Okavango Delta.
Please Note
Elephant-back safaris have been banned in Botswana for the safety and wellbeing of the Elephants.