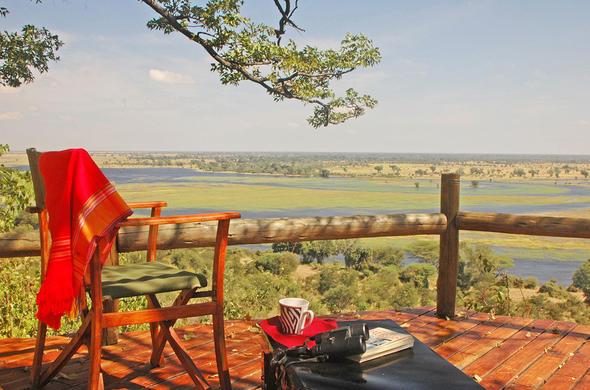 © View over the Chobe River flood plains from Muchenje Safari Lodge
The variety among these Chobe safari lodges and resorts ensures that there is something for every need and taste. Most lodges are either on the edge of Chobe river, or close to it, so you can look forward to some excellent game viewing along the river.
Accommodation styles range from premier luxury to comfortably decent. Without a doubt the hospitality everywhere is wonderful and the dining is always good, if not outstanding. Due to the fact that the majority of these establishments are in the wilderness - not all are suitable to travel to with small children. Please read any Child Policy which may apply at a lodge.
In Chobe National Park

Chobe Game Lodge
On your Botswana vacation you will experience the quintessential African safari experience at Chobe Game Lodge while overlooking timeless vistas...

Chobe Chilwero Lodge
Chobe Chilwero Lodge is a place of luxury and tradition. At this safari lodge in Botswana you will encounter an African safari experience like no other, with breathtaking scenery, diverse wildlife and the most glorious sunsets imaginable...

Chobe Marina Lodge
Uniquely located in the North-eastern corner of Botswana, Chobe Marina Lodge is surrounded by the natural beauty of Africa. Accommodation at this Botswana lodge is provided in either thatched studios, apartments, chalets or suites...

Chobe Safari Lodge
Chobe Safari Lodge is situated on the banks of the Chobe River, and has been taking guests on game viewing trips along the river since 1963. Chobe Safari Lodge offers boat hire...

Chobe Savanna Lodge
The charm of Chobe Savanna Lodge, with its sweeping views and wide vistas, lies in its beauty, peace and tranquility, far from the 'madding crowds'...

Elephant Valley Lodge
Elephant Valley Lodge enjoys a wonderfully cool setting under a canopy of trees, overlooking a waterhole. Elephant herds pass by and wildlife come to drink here. Kasane Forest Reserve is adjacent to Chobe National Park...

Ichobezi Safari Boat
The majestic Ichobezi is a stylish luxury safari boat operating on both the Chobe and the Zambezi Rivers. This luxury safari boat in offers you the opportunity to laze away the days... the most
beautifully effortless safari
you will ever undertake...

Cresta Mowana Safari Lodge
On the banks of the Chobe River in Kasane, Botswana, lies the Cresta Mowana Safari Lodge - an African dream. In ethnically-decorated rooms, comfort is reinforced with air conditioning, mosquito nets, en-suite bathrooms and spectacular views of the river...

The Garden Lodge
The Garden Lodge is located along the Chobe River in Botswana, offering personalised accommodation and excellent game viewing opportunities...

Impalila Island Lodge
The essence of this Chobe river-side lodge is privacy and relaxation, which makes it the perfect place to ease into your holiday or end a hectic game-watching safari...

Kubu Lodge
Kubu Lodge on the Chobe River is a must for comfort and affordability. This safari lodge in Botswana offers all the classic safari features and much more besides. A range of chalets provides family-friendly accommodation...

Muchenje Safari Lodge
Situated on the Western side of Chobe National Park, Muchenje is the only lodge in this area and offers unique prolific game experiences. Muchenje Safari Lodge is a premier luxury tourist...
Chobe Savute Safari Lodges
Savute is located in the south west of Chobe National Park, where you find lots of Elephants. You may be lucky enough to see a pack of Wild Dog who also travel at great speed over large areas.
Lions are common
during the Zebra migration, but so are Hyena who opportunistically steal about twenty percent of the lions kills. Leopard and Cheetah may also be seen here.

Camp Savuti
Enjoy an intimate Chobe National Park safari at Camp Savuti where you'll be far from the crowds in an area renowned for its high concentrations of game. The Savuti Channel flows again and you can see it in style...

Savute Elephant Camp
Savute Elephant Camp is located on the Savute Channel in Chobe National Park, which is in the rugged, semi-arid wilderness region of far northern Botswana...

Savute Safari Lodge
The world acclaimed game viewing of Savute is an experience not to be missed. The summer rains bring a feast for Lion, Hyena and Cheetah as thousands of migrating Zebra and Wildebeest assemble in mighty herds...
Linyanti Reserve Safari Lodges
Linyanti is renowned for its large concentrations of elephants and of other wildlife, at the start of the dry season until the arrival of the first rains, when they disperse into the vast wilderness. Sable, Roan Antelope, Lion, Leopard and rare Wild Dogs of Linyanti are among the abundant wildlife.
And of course, with the prevalence of antelope, the inevitable increase in predators can lead to scenes of
'life-and-death drama in the wild'.

Duma Tau Camp
Famous for its African Elephants- huge herds congregate in Duma Tau Camp winter along the waterways and lagoons- as well as at waterholes down the Savuti Channel. Duma Tau Camp boasts 10 tented units...

Kings Pool
The camp overlooks the Kings Pool Lagoon and the Linyanti River to the north in the Linyanti Reserve, which embraces 125, 000 hectares of unspoiled wilderness. The reserve embraces 125 000 hectares...

Lebala Camp
Lebala Camp is ideally situated in the huge Kwando Concession, renowned for its large elephant and buffalo population, plus lots of lions, hyena, leopard and cheetah and frequent visits from roam...

Lagoon Camp
Enjoy a beautiful forested setting humming with wildlife on a Botswana Safari at Kwando Lagoon Camp, which overlooks the Kwando River and Namibia's Caprivi Strip. This is Big Game country and Wild Dog territory...

Savuti Camp
is a small and intimate tented camp in an isolated area far from any crowds. Dinner is often served in the open, under the blanket of stars. Savuti Camp is a great-tented camp in...

Selinda Camp
The expansive decks of the lodge create a visual connection between you and the wilderness at all times. The surrounding waterways are a magnet for wildlife and your Botswana safari at Selinda Camp caters for this advantage...

Zarafa Camp
This Botswana safari camp is situated at the edge of a lagoon that is the source of the Savute Channel, where exceptional game viewing opportunities rival that of Chobe. Zarafa Camp is intimate and exclusive...