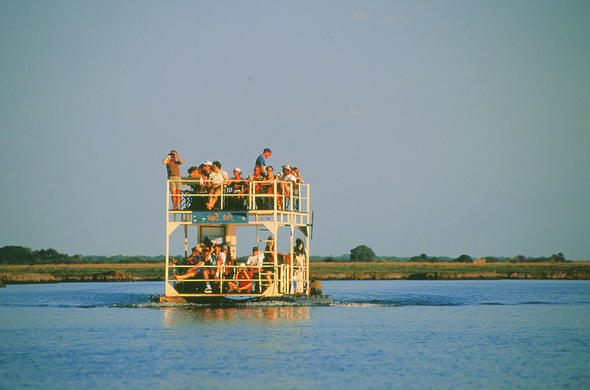 © The main highlight of Chobe River... the sunset cruise
During the dry season, between April and October, the Chobe River provides a lifeline for Botswana's great Elephant herds and they travel vast distances each day across the desiccated wilderness to and from the permanent waters of the river.
Watching a herd of Elephants heading to the water through the dry season landscape of
Botswana's northern wilderness
is one of the most abiding images of Chobe. It is not unusual to see hundreds of Elephants at any one time on the Chobe floodplains, kicking up dust or splashing in the water.Historically the Elephants moved across a wide range, with the Chobe River a
mere watering place
en route. The range incorporated northern Botswana, the Caprivi Strip of Namibia, south-eastern Angola, south-western Zambia and the western reaches of Zimbabwe.Civil War in Angola and a
war of independence
in Namibia put the herds in danger with the various armies using them as target practice and targeting them in order to sell the ivory for weapons. The Elephant sought refuge in northern Botswana and the legend of Chobe was born.With the ending of hostilities the Elephants have begun to cross the river again, although the Chobe is still the
central point for the gathering
of the Elephant herds in the dry season - and this is the attraction of Chobe.
Chobe Attractions
Africa's greatest concentration of Elephants during the dry season
Spectacular gathering of wildlife during the dry months, with big herds of Buffalo, Sable and other herbivores
A big predator population
The best in birding during the summer months with a gathering of many migrant species
Game viewing by boat for a different perspective of the wildlife of Africa
Option of visiting Victoria Falls on a day visit or visiting the Chobe whilst staying in Victoria Falls
Range of accommodation options