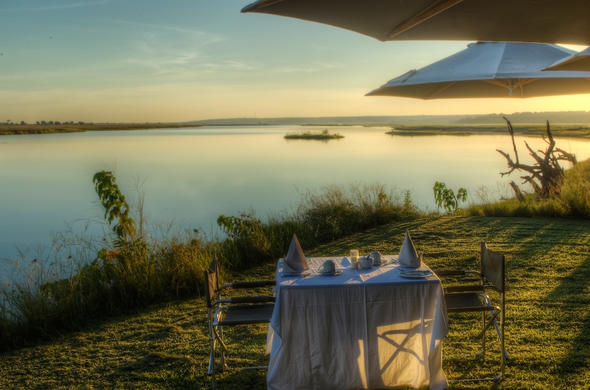 © Breakfast on the the river bank at Chobe Game Lodge
Enjoy a breakfast with game-viewing from the Sky-Walk at Chobe Game Lodge - right on the bank of Chobe River.
Chobe is the northernmost of Botswana's 10 districts and is bordered by the Caprivi Strip of Namibia and Zimbabwe. The capital of the Chobe district is Kasane.
The district encompasses the Chobe National Park, which in turn is defined by two famous areas in the safari hierarchy: Chobe River and Savute, with a very small piece of Linyanti attached.
Chobe River
When people talk about Chobe in travel terms they are generally referring to the riverfront in the far north of the park and it is here where it is said the greatest concentration of elephants in Africa occurs. The River is a haven for wildlife during the dry season when a multitude of animals congregates in the floodplains to drink from the River.
The Chobe River was once part of the great elephant migration route but with the war of liberation in Namibia the elephants became targets for the armies of the opposing forces. Because of this they stopped crossing the river and instead concentrated on the southern bank - and the legend of Chobe was born.
The Chobe River is an overflow of the Linyanti Swamp and Lake Liambezi and flows into the Zambezi near Kasane. Most of the water in to the system however, is a backwash from the Zambezi in flood with very little water coming from the Linyanti.
Chobe Savute
Savute is thought of in travel terms as a separate entity but it is part of the Chobe National Park. The area has a fascinating history and in the past two years has undergone dramatic changes with the channel, which has been dry for almost 30 years, beginning to flow again.
Savute is the area that became famous with the documenting of the enmity between Lions and Hyenas and then the dramatic interaction of Lions killing Elephants.