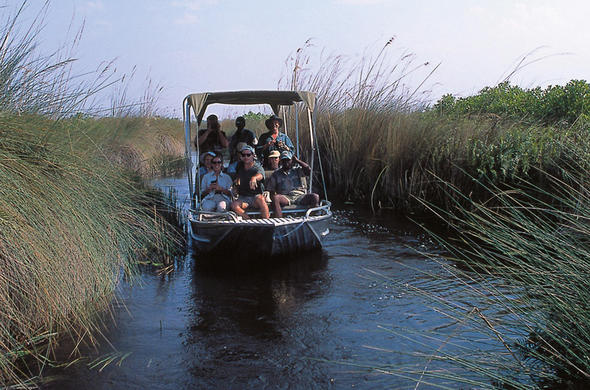 © Cruising through the Delta channels
The Okavango River is the life-line for people and animals alike all along its journey to the sands of the Kalahari Desert.
The Central Highlands of Angola are somewhat of a misnomer as they are not massive buttresses but rather undulating hills, but it is in this region that a drop of water begins its first flow in one of the countless little streams that make up the catchment of the Cuito and Cubango rivers that flow through Angola.
These two rivers meet on the Namibia Angola border becoming the Okavango River, which flows through the Caprivi Strip of Namibia for a short distance before entering Botswana where it immediately widens into what will eventually become the Okavango.
Travelling along the meandering channels and through the papyrus beds of the Okavango Panhandle for 75 km the drop eventually enters the palm-like oasis of channels, lagoons and islands that is the Okavango Delta. It is here that the drop of water ends its journey as part of one of the greatest miracles in nature. The drop reaches the Delta six months after leaving the Central Highlands and four months after the last rains have fallen in Botswana.
Gentle Plains, Raging Torrents and Pristine Paradise
Throughout its nearly 2000km journey the drop of water is part of a system that plays an important role in the survival of man and animal alike. From its headlands it provides drinking water for man and his stock, as well as fish and other aquatic food.
The water also provides for cultivation of crops in the form of water and nutrients on the floodplains all along its journey. As the river enters Namibia it provides tourist with recreational facilities such as fishing, cruises and game viewing.
Flowing through Namibia the Okavango River supports many people and is the lifeline for many wild animals that move through the game reserves and protected areas.
Sinking into the Sands of the Kalahari
The Okavango River never reaches the sea, instead spilling out onto the sands of the vast Kalahari Desert where nearly 80 percent is lost through evaporation and the rest sinks away into the seemingly limitless underground water reservoir.
In very high flood years the water will push down the Delta overflows such as the Khwai River in the north, the central Thamalakane overflow and the southern Taughe River. The Khwai ends up in the Mababe Depression, the Thamalakane in the Makgadikgadi and the Taughe spills into Lake Ngami.