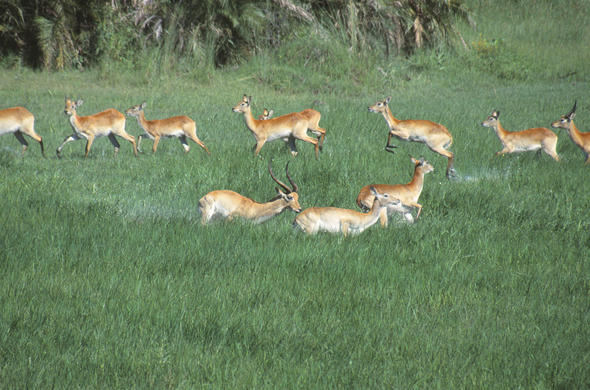 © Lechwe race across the Okavango
The Okavango Delta in Botswana is a place of beauty and drama but there can be no more dramatic time than the peak of the flood when the water is at its highest levels.
The arrival of the water on the floodplains of the Okavango Delta signals a time of readjustment and seeming peacefulness. The dramas of the wilderness are still part of the daily life but there seems to be a definite calm in the air which comes with the soothing waters.
This is also a time when the floodplain grasses grow and the edges of the floodplains green up with the raising of the water table. The contrast with the dry season vegetation on the islands is spectacular.
A Time of Peace
The time of drama awaiting the arrival of the floodwaters is over and the Delta settles into a rhythm of peace, where water is plentiful and the new grasses spurred to growth by the floods provide animals with lush nutrition.
Adding to the effect of calm are the reflections of the trees on the water, further enhancing the image of a paradise. It is at this time of the year that the countless islands that make up the landscape of the Delta can be seen clearly, surrounded as they are by the water. The small termite-mound islands dot the landscape and animals such as Lechwe can be seen resting up on them.
Even in Peace There is Drama
It is the height of the dry season, and animals seek out permanent water, meaning that the wildlife numbers increase in the Okavango Delta at this time and competition for food is fierce. This competition forces animals to take to the water.
Animals wade through the water between the islands to feed and predators often use the water when hunting, pushing aside the myth that most animals avoid water, but then again the Okavango Delta is unique.
And then you Notice the Drying
The water is part of daily life and all creatures move to the rhythm of the flooded land - and it seems that this place could never be anything else but islands and waterlogged plains. But then one day there is a subtle change - and you begin to notice the drying up.