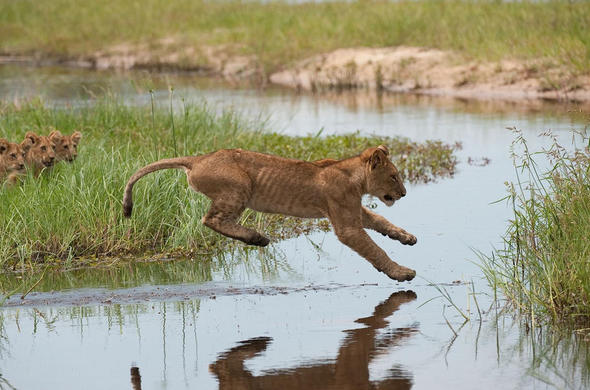 © Lion cubs learn how to ford a stream near Mombo Camp. Okavango
There are many incredible stories in from Africa but few are more dramatic than the story of the flood in the Okavango Delta in Botswana.
'There was a restlessness in the air, the feeling was palpable. The animals could sense it and the birds had been flying into the area from early morning. I decided not to head north to seek out the water but rather to wait where I was for the arrival of the flood. Fires had cleared the floodplains, leaving them dusty and barren and the dry season had ensured any growth was stunted. It was the perfect scenario to experience this unsung miracle of nature!
'By mid-afternoon the sound of the approaching floodwaters had grown to a cacophony, and I knew it would not be long before the water pushed onto the floodplain I was waiting at. The cacophony was not the sound of the approaching water itself, but rather the sound of thousands of birds following the water and feeding on the creatures that were disturbed from their underground burrows by the advancing flood'.
Following the Miracle
'It was around sunset that I saw the water for the first time, creeping along a hippo path channel. This was not an advancing wave but rather a slow but certain push. A small herd of zebra ran along the edge of the moving water, hooves kicking up dust and spraying water in one step, and some wildebeest seemed to dance in celebration of the shimmering life-line.
'I stood on the floodplain and waited for the water to reach me, and marveled as it flowed around my feet. The interaction of life around me was the most incredible natural spectacle I have ever experienced. After an eternity I grudgingly splashed back to the mainland - which was soon to be an island'.
The Sounds of the Miracle
'I lay awake almost the whole night listening to the soundtrack of the Okavango flood, with bell frogs filling the air in song. I knew that I was truly privileged to have experienced this phenomenon - a true miracle of nature'.
I have experienced the flooding in the Delta a number of times, and each time I marvel at the pure drama and beauty that comes with it. I have also been privileged to have live in the Delta for many years and appreciated the seasons as they pass into each other.