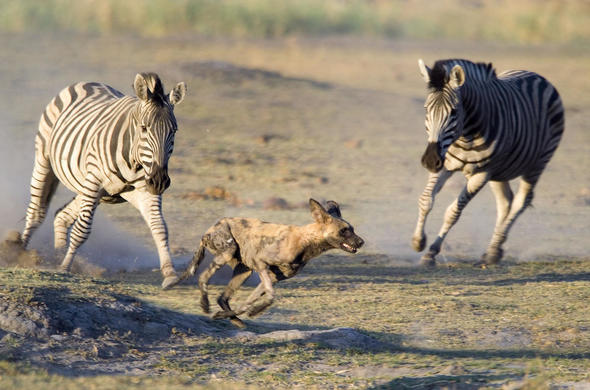 © Zebra's see off a wild dog at Savuti Camp
There are names that conjure up emotions from distant memory, the raw emotions of struggle, despair, romance and hope. Savuti is such a place, a place of contradictions. Savuti is an enigma, a place where the laws of nature are extended beyond the recognizable.
A place of contradictions
At times it is a river providing
a lifeline in a harsh environment
, in other times a stark, waterless wilderness. There are no seasons to this contrast, only periods dictated by the forces of nature. Savuti is now dry, a stark paradise where the cries of a not so distant past echo in the haunting silence of the present. Within this silence is the stirring call of the Africa of legends.In the dry season Savuti appears distant and moody, as a lover who never lets you in to her soul. She controls you, allowing you to waste yourself in loving her. When she wants she will
share some of her secrets
with you, but never letting you too close. She can be moody, overpowering in her silence.
September 24: 10.45 am:
The Savuti Marsh was in the grip of the dry season. Windblown dust all but obliterated the view. Guinea fowl scratched on the desolate ground and dead trees, as ghosts of the past, appeared out of the dust that was whipping into our faces as we drove along the edge of the marsh.
September 25: 16.20 pm:
The wind has stilled but the sky is washed in the dry season dust. The earth is bare, pockmarked with the dung of elephants and stunted trees, a reminder of the season and the lack of food.
Warthogs and impala walk past toward the waterhole, signs of life in the devastated environment. Three elephant appear,
silhouetted in the dust
haze and moving quickly toward the waterhole.
Ghosts of the past
As ghosts of the past
Not of the changing seasons
But of time
They appear from the dust
Of the changing season
It was the dust of the season
In time
From where they grew
And in the settling of the dust
They were ghosts
The Enigma
Savuti brings out mixed reactions in visitors.
'Is this what the end of the world will look like'
'A paradise beyond comparisons'
'Eerily beautiful'
'This place gives me the creeps'
Savuti toys with the emotions. In the dry season the bare earth rips at your soul and you can feel the wind tearing pieces from your mind. Moody, haunting, harsh and gentle, Savuti is inspiring.
And then it rains!From Botswana Journals by Leigh Kemp