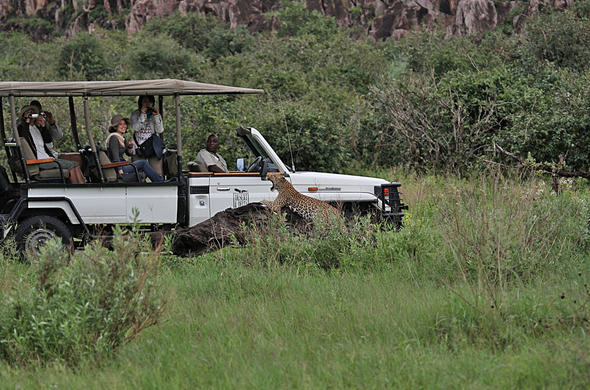 The Savute region in Botswana's Chobe National Park is a place of constant change, where the river may flow for half a century and dry up for twenty five years, but nonetheless it is a must see African safari destination.
The Savute is a wilderness of extremes, a place where the changes are not of the seasons but rather of periods of unknown duration. At times it is a lifeline in the dry season and at other times it is a lush oasis in the wet season. Over the past two centuries the Savute Channel has been known to dry up five times, with each dry, and subsequent wet period, of non-conforming duration.
The Savuti Channel flows from the Linyanti waterway and flows for more than 75 km through arid terrain before spilling out onto the Savute Marsh in the Mababe Depression. The explanation for the erratic behaviour of the flow is the instability of the earth below the sands of the Kalahari that lower and higher the area of the Savuti's source, as such opening and closing the flow.
The Savute had been dry for almost 30 years before the whispers of a change began four years ago when water began to move down the channel from the Linyanti Swamps. Slowly the water eased its way over the scorched land and thick sand, negotiating a gradual decline towards the Savute Marsh.
Charting the Progress
The course of the water flowing down the dry Savuti Channel has been followed closely by admirers of this incredible system, since the first reports in 2008 that the channel had begun to flow. In February 2010 the waters reached the bridge at the Savute campsite and a few months later reached the Savute Marsh - their historical end point. A new dawn quickly revealed itself in the region.
What Next for Savute?
With such a dramatic event the course of nature was changed. The channel now supplies great numbers of wildlife in the dry season, animal migration patterns have had to adapt to the change and predators hunting techniques have been tested and adapted. One of the most dramatic changes is the breaking up of the Elephant- killing super Lion pride into smaller units, resulting in far fewer Elephant killings than previously.
Visiting Savute Today
Despite the dramatic changes visitors to Savute can still expect a wildlife experience of the highest order, and the chance to be a part of a dramatically changed wilderness. The only difference now is that where there was once only scrub and grassland there is now water.
An exciting few years await in Savute, as nature and wildlife tussle to adapt to this new order. Interesting times lie ahead for Savute.