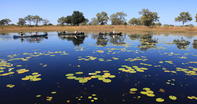 One of Africa's great wildlife reserves is the Selinda Reserve in Northern Botswana. The Zibadianja Lagoon gets its water from the ancient Selinda Spillway which flows in two directions linking the Kwando and Linyanti wetlands to the Okavango Delta.
The peak game viewing season in the Selinda Reserve is from the 1st of June till beginning of November. Selinda is a game rich area on par with Chobe National Park. There are elephant, lion, buffalo, zebra, buch species and many other variety of species at this Reserve and well as an abundance of bird life.
Selinda has some of the most luxurious Botswana safari accommodation in Africa which includes the Selinda and Zarafa lodges. The Selinda Reserve also have other fantastic camps in the area and the super luxury lodge, Zarafa Lodge, is one of Botswana's smallest and most exclusive camps. The Selinda Canoe Trail where guests stay in small dome tents put up each night is an adventurous canoe based safari. Other activities at all camps includes day and night game drives and walking safaris. See Selinda Reserve safaris below.
Selinda Camp is a stylish camp that rests on the banks of the Selinda Spillway, which is arguably one of the most pristine wildlife areas of Botswana. Explore the wilderness at this luxury Botswana safari...
more
Zarafa Camp is a small, intimate tented safari camp situated on a palm island on the edge of Botswana's northern Linyanti Swamps. Close by this Botswana...
more