Selinda Concession | Botswana Okavango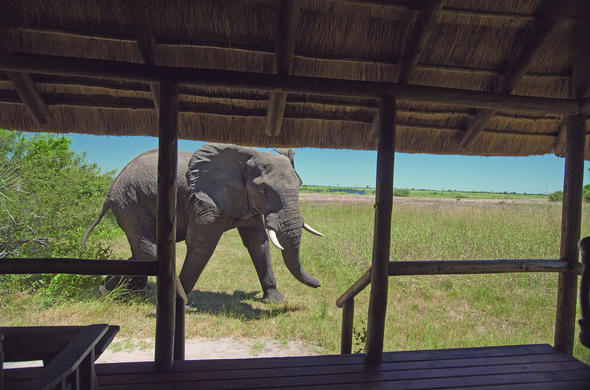 The Selinda Concession is in the north eastern regions of the Delta. This area has large areas of open savannah and on your Okavango safari you will see large herds of plains game, including Impala and Lechwe. In spring you will see large herds of Zebra which arrive to feed on the new grass. The Selinda Reserve is a 1350km square wildlife Reserve that covers most of the region known as the
Selinda or Magwegqana Spillway
. This is an ancient river that links the Okavango with the Linyanti and Kwando wetlands. This river had been dry for nearly 30 years when it started flowing in 2009. It has flowed for the last 4 years.As the floodplain is so flat the
river can flow in two directions
, and in good years will flow in both directions! This occurs when waters from the Okavango spill into the Selinda Spillway and flows from West to East. Then in the East of the reserve water from the Kwando and Linyanti Rivers flows up from East to West, meeting up in the middle.
Habitat
The area consists of flood plains which are covered in wide open savannah dotted with real Fan Palm trees. The rivers are surrounded by dry woodlands. The
rivers themselves are surrounded by floodplains
which used to be fairly dry, but in recent years have become true wet floodplains once more. This trend of strong flooding looks set to continue as heavy rains continue to fall in Angola.
Wildlife
The area contains some permanent game whose numbers swell in the dry winter months. The Selinda floodplains are home to diverse numbers of antelope, and on an Okavango safari you are likely to see animals including Impala, Kudu, Tessebe, Reedbuck and Steenbuck. The area is also
home to Southern Giraffe, Buffalo and plenty of Elephants
. The floodplains are home to large numbers of Red Lechwe as well as large herds of Wildebeest, small herds of Elephants and Roan Antelope. Large herds of Burchell's Zebra and Wildebeest arrive in May to be near the permanent waters in the Selinda and Linyanti River.
Predators in the area are typical of the Okavango region with Lion being the dominant predator. Spotted Hyenas are also common. The wide open
floodplains make the perfect habitat for Cheetahs
. You will often find them lounging on an anthill watching out for prey. Selinda is one of the best places in the Okavango to see Wild Dogs as the terrain generally means that you can follow them off-road when they decide to hunt.
Smaller animals in the reserve include Side-Striped Jackal, , Mongooses, Serval, Bat Eared Foxes, Caracals, Aardwolf and African Wildcats.
Birdlife
The birdlife in the region is typical of the Linyanti Region. The reserve is noted for its
sightings of the Collared Palm Thrust
. The open region is perfect for Ostriches, Secretary Birds, Kori Bustards, Krested Korhaans and various Sandgrouse. The area is also well known for its raptor sightings.
When to visit
As with most areas in the Okavango region the best time to visit is in the dry winter months as the vegetation is less dense so you will see more and the wildlife searches for areas of permanent water.