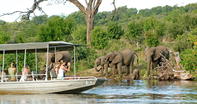 Our Chobe safari lodges and Chobe safari packages in Botswana allow you to access Chobe National Park for an exceptional wildlife experience. Activities include game drives, river boat safaris and sun-downer cruises along Chobe River, where you can watch huge herds of Elephant as they gather at dusk, to drink and play.
Chobe Safari and Tours
These Chobe safari packages have been created to suit every taste, from romantic getaways to family vacations, and laid-back houseboat cruises.
Our Chobe safaris in Botswana comprise of Chobe National Park safari lodges accommodation, flights, transfers and wildlife safari activities.
Besides the immediate Chobe River-front, you have options to discover the Linyanti wetlands and Savuti Channel which are both famous for their rich game viewing photo-opportunities.
Meet the Elephants of Chobe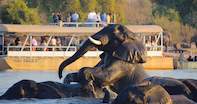 Watching Elephants from boat on Chobe River. Chobe National Park is home to large herds of Elephant, Zebra and Buffalo. In the dry season Elephants gather in herds that number in their thousands along the Chobe River.
You can take the opportunity to view these magnificent beasts by land or water. Game drives are always great - but a Sunset cruise on the Chobe River is an unforgettable experience, as you watch the wildlife come down to the water to drink.
A Chobe River houseboat safari presents you with aspects of elephant social life that you will never see this close-up, on a game drive.
Best Time to Visit Chobe
The hottest months of the year are considered the best time for game viewing on Chobe River and the
best time to visit Chobe
, as it draws the hugest concentrations wildlife as the animals seek water. The heat may be unpleasant, but the wildlife experience is astounding. For avid birders, the best birding in Chobe is from late November to April, when the migrant birds are plentiful.
The Chobe Safari Experience - More than WildLife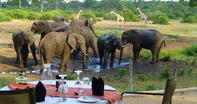 There are many game viewing activities in Chobe National Park, highlighting the magnificent wildlife, which can be experienced on game drives and boat cruises. Game watching from a boat as animals come down to drink at the water's edge is a unique experience.
The Chobe National Park is also known for its high concentrations of predators: Lion, Leopard, Cheetah and Spotted Hyena. Game viewing is normally best during the dry seasons from May to August when the wildlife is concentrated around the river.
Getting to Chobe
All our
Chobe Safari Packages
include return flights from Johannesburg. However if you are of a notion to drive from South Africa, Namibia or Victoria Falls, this information will provide 4-wheel SUV enthusiasts with the basics of
getting to Chobe
by road.
Chobe - Where Wildlife Abounds
Chobe is famous for its Elephants which exist in vast herds. The other predominant herd is Buffalo. Both of which hardly ever seem to stray far from the rivers waters. Read the Chobe Wildlife Guide to find out about these and other animals of Chobe.
The Chobe Riverfront is the most popular area of the Chobe National Park; it stretches for miles, along the Caprivi Strip. The Chobe River is home to countless numbers of Hippo's and Crocodiles, and a boat cruise down this stretch offers excellent game viewing.
Add Victoria Falls to your Chobe Safari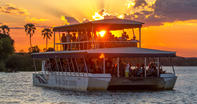 The Chobe National Park in Botswana is not far from Victoria Falls, so safaris between Chobe and Vic Falls are easily combined. Why not take an exciting
Chobe to Victoria Falls Safari Tour
.