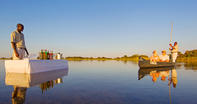 Our Okavango Safari Tours offer you the opportunity to enjoy a memorable Botswana safari where you will stay in comfortable Okavango Delta safari lodges. Our selection of customizable safari package holidays and lodges in Okavango Delta and Moremi Game Reserve offer excellent game viewing and activities.
You can set off on your exciting Okavango Delta safari in three ways; a tranquil mokoro excursion, a bush walk or a game drive.
Okavango Delta Safari Lodges and Tours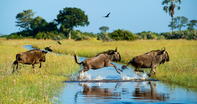 View a selection of Okavango Delta Safari Lodges and Okavango Delta Safari Packages All our Botswana safari tours can be customized to suit your needs and budget. Let our Okavango Delta safari Destination Experts assist in creating a unique package that incorporates flights, transfers, wildlife safari activities and excursions.
Experience the Okavango Delta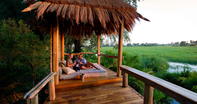 Surrounded by the semi-arid Kalahari Desert, the Okavango Delta, incorporating Moremi Game Reseve, is a lush water wonderland. It is home to many species of antelope, such as Lechwe and Tsessebe.
Herds of buffalo, zebra and elephants that number in their thousands pass through annually on their migration routes. A truly unforgettable experience is a bush walk, led by by a safari guide who will show you the more intricate workings of nature.
Elephant Safari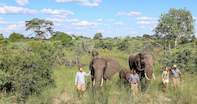 Especially for elephant-lovers, Abu Camp is ideal for those wanting an
elephant safari in the Okavango Delta
. Experience close-up interaction with these gentle giants and learn more about their behaviour. Please note Botswana has banned Elephant-back safaris.
Okavango Highlights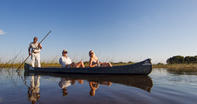 The most unique mode of transport on Okavango Delta tours is the traditional mokoro - or canoe, with a dedicated guide. Game viewing is leisurely as you move serenely through the water. Most game viewing is conducted by boat.
Aquatic and land sightings make for an exciting Okavango wildlife experience, whole you drift through the intricate channels of the Delta. Rekax the tranquility of the lagoons, and see rare animals such as Sitatunga and Pel's Fishing Owls.
Memories of an Okavango Delta Safari will stay with you for a lifetime.