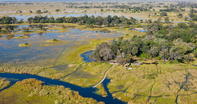 The Okavango Delta offers a wealth of activities and experiences which you cannot find anywhere else. Rich in wildlife and with a complex system of islands, lagoons, floodplains and swamps you'll enjoy a unique safari here worth repeating often, because no 2 trips are ever the same.
Access
Certain parts of the Okavango Delta are accessible by vehicles (mostly 4x4) for self-drive safaris but for many areas access by light aircraft charter is the only way in. Most lodges have their own airstrips, or airstrips are shared between lodges. Moving around between camps is usually by a mokoro (dug-out canoe) or by motor boat. Flying in over the Delta gives visitors a wonderful perspective of the extent and diversity of this exceptional wetland area. Best Time to Visit Okavango How to Get Around the Okavango
Airport
Maun Airport is the gateway to the Okavango from which light aircraft charters transfer guests to airstrips within the Delta. Read more about Maun - Gateway of the Okavango
Regions
The Delta is shaped like a fan with a handle. Permanent waters are found in the central Okavango (year round safari water and birding activities) while the outer areas offer seasonal floodplains and swamps (water / land combination activities). The lush Moremi Game Reserve in the central region is a Big Five area with some 4x4 access. There are also numerous private reserves or concessions with exclusive activities including night game drives. The Okavango Panhandle is accessible by 2x4 vehicles and is best for fishing and house-boating. Read more about the Okavango Concession Areas
Highlights
The Okavango Delta is a pristine wetland system of great scenic beauty and it is rich with wildlife including rare animals such as Wild Dog and Sitatunga antelope. View the Okavango Wildlife Guide
You can explore this beautiful place in a number of ways on land and water and even combine various camps within it for a kaleidoscope of experiences.
There is a superb choice of Okavango Delta Safari Lodges and camps which will enhance your Okavango holiday. An unforgettable and unique safari activity is being poled along by your guide in a mokoro (dug-out canoe).
Your guide stands at the back of the craft, pushing it forward through the water with a long pole, while you sit in the middle with your camera at the ready. You'll explore the reedy waterways, traverse lagoons thick with water lilies and see wildlife at the water's edge.
Activities
Water activities include mokoro (dug-out canoe) excursions, motor boating, house-boating and fishing also mokoro safaris with camping such as at Oddballs Camp.
Land activities include fascinating island walks, tracking game on foot, 4x4 game drives (certain destinations offer night drives e.g. Jao Camp), horseback safaris, Elephant safaris and cultural village visits to meet the People of the Okavango.
Climate
Dry Season - April to October. The season becomes progressively hotter and drier and the animals gather around waterholes and permanent water sources which makes them easier to see. The floodwaters are high during this time in the Okavango which is a magnet for wildlife.
The Wet Season - November to March. The heat is stifling and the rains make many roads impassable, but the land is lush and green. It is a superb season for birding (especially migrants) and watching animals giving birth, once the floodwaters have receded.
Read more about Okavango Delta Safari Activities
The Experience
The Okavango Delta is not just another getaway destination - it's the kind of place that lends itself to all occasions. It can be a honeymoon hideaway or an ornithologists dream and even the answer to a jaded traveller's quest for something truly different. Singles, couples, families and groups can all find a place in the sun and come away with memories to treasure.
Every day is different and each season in the Okavango Delta has its moments of glory. The Delta changes all the time and animals move around from place to place following nourishment and water sources. Lodges and camps are dotted about in different settings and take full advantage of their location - be it on an island or by a lagoon or on a grassy plain. You'll not lack any comforts, in fact you will be amazed at the levels of luxury available in this remote and watery paradise. If you choose, you can camp under the stars and keep things simple too.
If you want an adventure, you can have it in the Okavango, but you can also take it easy in the heat and enjoy the magical atmosphere. Activities depend on water levels, animal movements, the time of day and season. Game viewing is best in the early morning hours and at the end of the day going into the night when it is cool - so expect dawn wake-up calls and siestas after lunch. Each activity holds some element of surprise, so it is good to try them all. Activities can include snacks or a picnic depending on what you do and how long you are out.
The Okavango is home to abundant wildlife due to its range of habitats. Moremi Game Reserve offers Big Five game viewing (Elephant, Lion, Buffalo, Rhino and Leopard), but you can spot Wild Dog here too and in certain concessions nearby (there are no fences).Cheetah can also be seen in the Okavango as well as Zebra, Giraffe, Red Lechwe, Sable, Spotted Hyena, Hippo and Crocodile just to mention a few species.
Birdlife is excellent with an emphasis on water birds and many migrants which arrive in the wet summer season. You could spot African Fish Eagle, Pel's, Fishing Owl and the Sacred Ibis.
Okavango Delta Safari Travel Guide