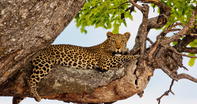 Join us on a journey into the Linyanti Wildlife Reserve in the north-eastern corner of Chobe National Park in Botswana. These Linyanti safari tours offers you the opportunity to indulge in an unforgettable game lodge stay, and a Botswana wildlife safari experience with professional safari guides.
Your two hour flight from Johannesburg or Cape Town will land you in Maun, for your charter flight into Linyanti. The Linyanti region is formed by the Kwando River rising in the highlands of Angola, and flowing through Zambia and the Caprivi Strip of Namibia before becoming the Linyanti River.
Here it forms an Okavango-type wetland along the border of Namibia and Botswana. This focal point attracts seasonal game that migrate to the River during dry winter months as well as diverse bird species.
Linyanti Safari Lodges and Tours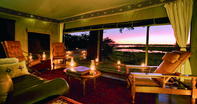 View recommended
Linyanti Safari Lodges
and
Linyanti Safari Packages
in the Chobe area of Botswana.
Best Time to Visit Linyanti
This pristine wilderness situated north of the Okavango, and fed by the Kwando River, is home to one of Botswana's large Elephant populations, especially during the dry season,
from May to October
when waterholes dry out and animals congregate in large numbers closer to the river. Read more about the
best time to visit Linyanti
.
Linyanti Safari Activities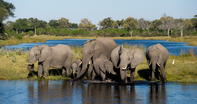 Various activities provide you with the full African experience within the
Linyanti eco-system
. These optional activities include amazing sunset or sunrise cruises, morning or evening game drives and bush walks with abundant game viewing making for unforgettable Botswana safari tours.
Rare Wild Dogs of Linyanti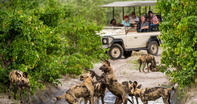 These "painted" hunting dogs are the high-light of any Linyanti safari because of their rarity. Botswana holds 50% of the worlds Wild Dog population, and is one of just four African countries where Wild Dogs still exist. Read more about the
Wild Dogs of Linyanti
.