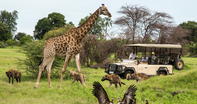 Experience a Moremi Game Reserve safari, right in the heart of Botswana's Okavango Delta. It is considered to be the most beautiful wildlife sanctuary in Africa and makes for an ideal Botswana safari destination for the first-time visitor.
Moremi Safari Lodges and Tours
Elephant herds numbering in the thousands take refuge in the beautiful Mopane forests in the dry winter months. It is also one of the only places in Botswana where you can see the Big Five now that Rhino have finally been re-introduced into the area. Experience amazing wildlife safari activities and game viewing on
Moremi Safari Packages
and
Moremi Safari Lodges
in Botswana.
The Moremi Safari Experience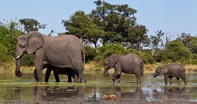 Moremi supports one of the greatest concentrations of wildlife in Botswana and apart from being home to huge herds of Elephant, it is also the range of the endangered African Wild Dog. One of the world's greatest safari destinations, it covers nearly 20% of the Okavango Delta.
Moremi Reserve is a study in contrasts, with areas of dry woodland and savannah next to picturesque floodplains and lagoons. The reserve is a sanctuary for many animals and known for its large herds of plains game such as Buffalo, Zebra and Wildebeest. It is also home to many predators including Lion, Leopard, Cheetah and Hyenas.
Best Time to Visit Moremi
Your Moremi safari experience depend on the time of year that you visit. Animal and bird behaviour and movements across the landscape of Moremi are very weather dependant, with differing species occurring in varying numbers. Or perhaps not even at all. Plan your best time to visit Moremi Botswana.
Getting to Moremi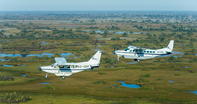 All of our Moremi safaris and tours include flights between Botswana and South Africa. The Moremi Game Reserve is a short charter flight from Maun, which is a mere 2 hour flight from Cape Town or Johannesburg. If you are planning on doing a
self-drive safari in Moremi
, you will find this information useful.
Discovering Moremi's Wildlife
Considered one of Botswana's best game viewing areas, Moremi comprises of wetlands, riverine woodlands and some savannah. The diversity of wildlife in so many eco-systems guarantees unique sightings within a short period of time. Discover Moremi in the combination of wetlands and savannah which allows you to enjoy a safari both by normal 4x4 vehicle and by boat through the papyrus islands of the Delta.
Read more about Moremi wildlife.
Some of the Best Places to Visit in Moremi Reserve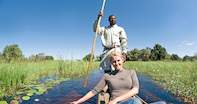 Chiefs Island
,
Xakanaxa Lagoon
and
Khwai River
. Each unique in its own way, and each offering a different perspective of Moremi's diverse and varied habitat. What you want to see and do, will determine which Moremi Game Reserve Lodges you should be staying at Discover the best areas of Moremi.
Map of Moremi Game Reserve Lodges
Occupying more than half of the Okavango Delta, Moremi constitutes the location of more than half of the safari lodges in the Okavango Delta. Some of the most sought after luxury lodges of Botswana are located in the Moremi Game Reserve. Others satisfy the appeal of the "great outdoors" by being on the frontier of safari, whilst maintaining creature comforts.
See a Moremi Game Reserve Map of where you will be staying.
Moremi Highlights
Moremi Highlights
on your Botswana safari include the magnificent wildlife and sightings of rare
Wild Dogs in Moremi Game Reserve
. The birding is excellent in summer, and you could visit the birding colony at the Gcodikwe Heronry.The Mopane Tongue is best for seeing
Wild Dogs
, while
Xakanaxa
is known for its varied game sightings. Chief's Island is exclusive, and is one of the best places to see Rhino, while the Xigera region focuses on water activities.