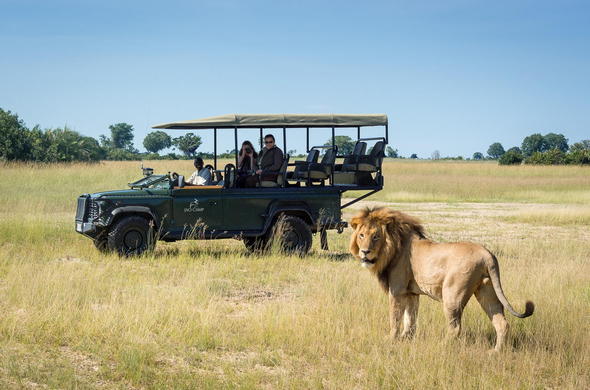 In summer, activities tend more towards game drives, whereas in the winter mainly water-based activities are offered. 50% Game Drives and 50% Water Activities (but very much dependant on flood levels and time of year.)
The game viewing depends on the time of year and the water levels in the Okavango. Elephant, Giraffe, Warthog, African Wildcat, Lechwe, Impala, Waterbuck, Sitatunga and Wild dog (just to name a few) are just some of the popular sightings here.
Nowhere in the Okavango do you experience more extreme contrasts in the seasons. From about May to late September, the floods arrive and the floodplains fill up with crystal clear waters. From October to April, the flood levels drop and the floodplains turn into savannah grasslands.
Jao is a multi-activity camp. Mokoro, boating, game drives and night drives are all on offer all year round. The primary focus of the activities changes according to the time of year and the flood levels.
A variety of habitats ensure diverse and interesting game viewing. Lion, Cheetah and Leopard are plentiful, while Tsessebe, Red Lechwe, Zebra and wildebeest dot the floodplains. The wildlife at Jao Camp depends largely on the water levels in the area. The lagoons are home to Hippo and Crocodile and the permanent waters attract large numbers of waterfowl. In the permanent waters, Sitatunga can be tracked silently by mokoro.