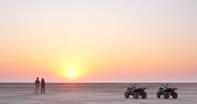 The Makgadikgadi Salt Pans in the Kalahari provides the most unusual safari experience in Botswana and the 6 day Quadbike Adventure tour of Makgadikgadi Pans showcases the best of this area. Includes flights ex/to Johannesburg.
Quadbike Adventures in Makgadikgadi Pans
Watch the white grounds of the Makgadikgadi Salt Pans turn to dust as you make your way to Kubu Island on an adrenaline-pumping quad biking adventure. Start your safari in Botswana in the Kalahari Desert at Jack's Camp. Here, you can enjoy comfortable lodging in Makgadikgadi before embarking on your quad biking journey.
At Kubu Island, you will explore the surrounds by quad bike during the day and return to an outdoor bed under an endless ceiling of stars. Discover the treasures of the desert the way the native Bushmen have done throughout the years.
Day 1: Johannesburg - Maun - Makgadikgadi Pans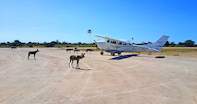 Arriving in Maun, you will be taken by a light aircraft charter into Makgadikgadi Pans where you will stay at Jack's Camp.
Situated in the Kalahari grasslands, this safari camp in Botswana is surrounded by desert palms. The Makgadikgadi Pans are a collection of salt pans in north-eastern Botswana and on your Botswana safari, you will explore the pans on guided nature drives.
Day 2: Makgadikgadi Pans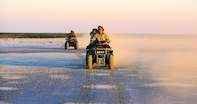 Your days at Jack's Camp will be spent absorbing the luxury of this camp and indulging in culinary delights. Spend time with meerkats in their natural environment before enjoying a breakfast picnic, followed by a cultural visit to the local people at a remote cattle-post. Later on in the day, you will spend time with eerie brown hyaenas and their cubs.

Return to a candlelit dinner at the camp and an early night's rest.
Day 3: Kubu Island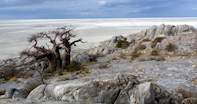 After an early wake-up, you will enjoy a light breakfast and prepare for your trek across the Ntwetwe Pan to Kubu Island on a quad bike.
On your journey, you will leave a dusty path of white earth behind you and encounter various bird species along the way. Look out for ostriches, flocks of swallows and one of the world's largest flamingo breeding sites.
Day 4: Kubu Island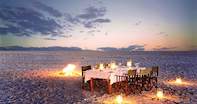 After a night under the stars, you will awake to your second day at Kubu Island. An early start to the day will lead you an exploration of the island and breathtaking views from atop the Sowa pan. Visit the pebbles on the beach at the extinct mouth of the Zambezi River.
Day 5: Makgadikgadi Pans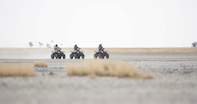 Make your way across the salt pans on a thrilling ride back to Jack's Camp where you will spend the final night of your Botswana vacation.
Day 6: Makgadikgadi Pans - Maun - Johannesburg
On the final morning of your safari in Botswana, you will prepare for departure, enjoy a light breakfast and be transferred to the airport. A light aircraft flight will deliver you to Maun where you will board a flight back to Johannesburg.
Included
Return flight from Johannesburg - Maun - Johannesburg
Light aircraft return flight Maun - Makgadikgadi Pans - Maun
5 night's accommodation
All inclusive of all meals and beverages
Daily laundry service
Scheduled camp activities
Not Included
Premium brands of alcohol