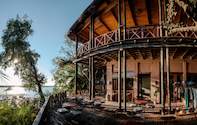 Chobe Marina Lodge is situated in the heart of Kasane, surrounded by the natural beauty of Africa.
Lodging: Facilities include a boma, fire pit and floating restuarant
Location: Chobe Marina Lodge is located on the banks of the Chobe River
Activities: Golf, fishing, sunset Chobe River cruises, game drives
The Chobe Marina Lodge is located in the North-eastern corner of Botswana and has wonderful views over the Chobe River and Chobe National Park. It is situated close to the Kasane Forest Reserve, the Caprivi Strip and Victoria Falls is just 70km (43.5 miles) away.
The Reserve is home to an abundance of wildlife, such as many Elephants, especially towards the end of the dry season, as well as the legendary Fish Eagle along the waters of the Chobe River. Chobe Marina Lodge's lush expansive gardens teem with an abundance of birdlife as well as smaller animals, including Warthogs, Squirrels, Mongooses and Vervet Monkeys who go about their daily feeding rituals amongst the age-old Ebony trees.
Chobe River lodge accommodation is in the Nare Studio, the Tlou Suite or Honeymoon Suite, all with stunning Chobe River views. Facilities at Chobe Marina Lodge include a restaurant, riverside bar with panoramic views of the Chobe River, a boma, swimming pool, spa and curio shop.