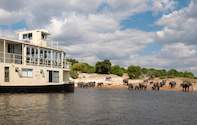 Chobe Princess Safariboat offers accommodation in 4 en-suite cabins offering the best in comfort and versatility for a luxury river cruise on the Chobe River.
Your Expected Botswana Vacation Experience
Accommodation is offered in 4 luxury en-suite cabins
Guided close-up game viewing by smaller tender boats
Fishing, birding and guided excursions are included
The majestic Chobe Princess Safariboat is a stylish boat that operates on the Chobe River between Botswana and Namibia. You have the advantage of being able to board the boat from any one of the 4 countries that meet up at Kasane: Botswana, Namibia, Zambia and Zimbabwe. The meeting point is at the Kasane Immigration Office on the Botswana side of the Chobe River.
The weather is warm throughout the year although evenings in winter can be very much cooler. The rainy season occurs mainly between February and April.
Breakfast, lunch and supper are included. A qualified chef on board will be sure to delight you with his mouth-watering cuisine. Brunch is served daily after the early morning activities of game viewing or fishing. Enjoy your meal out on the upper deck surrounded by the wonderful scenery. From the elevated deck of your accommodation you can look out over the river, take time to socialize and relax.
The bar is fully stocked with South African and Namibian wines and beers as well as ciders, soft drinks, mineral water, tea and coffee, which are all included during your stay.
The bar and kitchen area are at the rear of the vessel and open out onto the dining room and lounge. These areas are usually opened onto the water. In case of bad weather, these areas will be closed off.
At the front of the entertainment deck where you will enjoy most of your meals, is a plunge pool. As you relax in the water you can leisurely look out over the marvelous surroundings. There is also a large semi-covered area with pool sun loungers on the top deck.
Health
Please note that this region is a malaria area, so please take the necessary precautions and consult your doctor before boarding your luxury safari in Namibia.