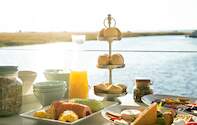 Chobe Princess Safariboat is berthed on the Chobe River at the entrance to the Chobe National Park and sails on the Chobe River between Botswana and Namibia.
The peaceful Chobe River divides Namibia and Botswana. It is famous for the large number of wildlife species that come to drink at the river's edge. This is also the area where the Chobe National Park is situated. This is where you can expect to see Elephant, Hippo, Crocodile, Buffalo, Giraffe and many species of Antelope.
Before the Chobe in Botswana meets up with the Zambezi, the 2 rivers are connected by the Kasai Channel. Here the Chobe Princess Safariboat cruises past the tranquil swampland with its lush, green growth, magnificent scenery and countless bird spotting opportunities.
The meeting point for the start of your journey is the Kasane Immigration Office in Botswana. Road transfers can be arranged from Livingstone and Victoria Falls to Kasane. After going through passport control you will take a short boat transfer across the river to the Namibian Immigration Office where you will go through passport control again to enter Namibia. After which you will take a boat transfer to the Chobe Princess.