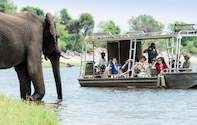 Smaller tender boats enable you to see wildlife up close as they gather along the Chobe River edge.
You are able to see an amazing variety of animal species from your Luxury Safari Boat. Relax and watch the Elephant, Giraffe, Leopard, Lion, Kudu, Waterbuck, Impala and other animals come to drink at the river's edge as you slowly drift past.
Fishing, on a catch and release basis, is another favourite activity offered. Knowledgeable guides will point out the best spots to land a Tigerfish, a major fishing attraction, or any one of the other fish such as Catfish, Tilapia and Largemouth Bream, that are found here.
You are able to fish from the riverbanks and the rocks in the rapids but there is always the risk of running into Crocodile. Upon your arrival a guide and a boat will be allocated to you. You are then left to fish as much as you would like to during your stay on the Chobe Princess Safariboat.
Bird watching enthusiasts will have a wonderful time watching out for and identifying the over 400 different species of bird that live in this area. The boat will cover a wide variety of habitats and a knowledgeable guide will escort you during your Botswana vacation.
The sunset over the river is spectacular and can be experienced by sailing on a tender boat with a specially packed cooler, organized by the crew. Sit back, sip on cold sundowners, and watch the African sunset in all its colourful glory on your holiday.
Included Activities
Guided game viewing by tender boat
Guided fishing from a well-equipped fishing boat
Guided bird watching
Guided walk on Impalila Island to see the ancient Baobab tree
Visit to a local village (when available)