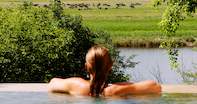 This Classic Couples Soul Escape Safari Package allows you to see the wildlife spectacle of Chobe National Park and the beautiful scenery and animals of the Moremi Game Reserve.
Accommodation: Chobe: double en-suite rooms, air-conditioning, mini bar. Moremi: Twin/double en-suite tents under canvas, with fans
Activities: Morning and afternoon game drives, river cruises
Destinations: Kasane, Chobe National Park, Moremi Game Reserve
The Couples Soul Escape Experience
Our Couples Soul Escape Chobe safari package allows you to experience two of Botswana's greatest wildlife destinations - Chobe and the Okavango Delta. It is ideal for a romantic getaway, as you will stay in two luxurious lodges in comfortable suites and enjoy excellent service. Relax on the private deck and watch the tranquil Chobe River flow past.
Witness the large herds of Chobe Elephants coming down to the river to drink in the dry season and experience exciting game drives during which you will see animals such as Lion, Wild Dogs and Leopard. The floodplain is also home to many Zebra, Impala and you may even see the rare Puku antelope.
On your Chobe trip you will set out to explore the magical Okavango Delta and discover the placid waterways by boat - a great opportunity to see a wide diversity of birdlife. Game drives in the Moremi Game Reserve offer the possibility of many exciting encounters with large herds of Buffalo, Impala and Zebra. Wild Dogs and Lion are also commonly seen. Enjoy delicious safari inspired dinners in the open dining room lit by traditional lanterns.
Day 1: Johannesburg - Kasane - Chobe National Park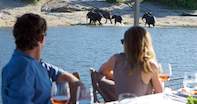 On the first day of our Couples Soul Escape Chobe Safari Package you will catch a flight from Johannesburg's O.R. Tambo International Airport to Kasane. Upon arrival, there will be a guide waiting to transport you to the lodge in the Chobe National Park a great introduction to the region and its wildlife.
After settling in and having a sumptuous high tea, head out on an afternoon game drive or a river cruise. In the evening savour a delicious safari inspired meal or the lodge may hold a romantic boma evening with traditional marimba music, song and dance.
Day 2: Chobe National Park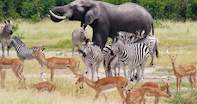 Early the next morning have a quick cup of coffee and a muffin before heading out on a game drive in search of the famous Chobe Elephants and the other members of the Big Five. This excursion will be led by a knowledgeable guide who will share stories about life in the bush. After an exciting morning you will return to the lodge for a decadent brunch.
In the afternoon after tea you can head out on a sundowners river cruise - this is a wonderful way to see the animals on the floodplains, including the herds of Elephants which come down to quench their thirst after the heat of the day. Watch the sun slip below the horizon and sip a refreshing drink before heading back to the lodge for dinner.
Day 3: Chobe National Park - Kasane - Moremi Game Reserve
After one last safari activity exploring the Chobe National Park and breakfast you will be driven back to Kasane Airport where you will catch a light air-craft flight to your camp in Moremi Game Reserve in the Okavango Delta.
After a delicious lunch settle into a tented suite before heading out to discover the beauty of the Delta. Explore the winding channels which are lined with pampas grass, or go on a game drive in search of animals such as Leopard, Elephant and Buffalo.
Day 4: Moremi National Park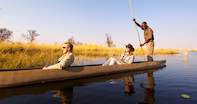 In the morning head out either by boat or vehicle - a boat cruise is the perfect opportunity to see the regions abundant birdlife - visit a couple of heronries in the area and see storks and Kingfishers. Spot the water adapted antelope Lechwe and possibly glimpse a rare Sitatunga.
A game drive allows you to see more traditional African wildlife such as huge herds of Buffalo and prides of Lion. The region is home to many species of antelope and Moremi is also famous for its Wild Dog population.
Day 5: Moremi National Park - Maun - Johannesburg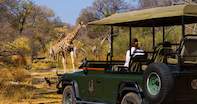 There will be time for one last game viewing excursion on your Chobe trip, in search of Lion or Leopard before breakfast. Then you will catch a light air-craft flight to Maun. From where you will catch a connecting flight back to Johannesburg's O.R. Tambo International Airport in South Africa.