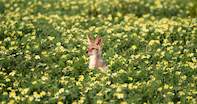 Visit this unique and Superbly Diverse corner of Africa where nature and culture combine for a Classic 5 day Wildlife and Nature Safari Package. Mapungubwe World Heritage Site in the Limpopo Province of South Africa and the Northern Tuli Block in Botswana offer a fascinating history, spectacular wildlife and breathtaking landscapes.
Accommodation: Comfortable stone under thatch chalets, outdoor sitting areas, en-suite bathroom, tea and coffee facilities
Activities: Mapungubwe guided tour, walking, cycling, birding, game drives, bush walks and night drives (also a wide variety of optional activities) at Tuli
Destinations: Private nature reserve on a game farm in the Northern Limpopo region of South Africa; Northern Tuli Game Reserve in the Tuli Block of Botswana
Seasonal: All year around - the best time is in the dry season from May to October
Overview
Classic Wildlife and Nature Safari Experience
Looking for a great safari but with something special added in? On this 5 day African Heritage Discovery Package you will experience destinations that are off the beaten track and still top secret. You'll come away with wonderful impressions of authentic Africa that will stir your soul and live long in your heart.
Your journey includes flights and easy self-drives with transfers arranged within Botswana. The first night is spent in a tranquil lodge in the Mopane bushveld of Northern Limpopo Province in South Africa. Surrounded by wildlife and panoramic views, you'll visit the Mapungubwe World Heritage Site and discover the remnants of an ancient civilisation. This historic area also features beautiful San Rock Art - the earlier legacy of Africa's first people.
The last 3 nights are spent in the legendary Northern Tuli Block. Prepare for stunning landscapes, fabulous game viewing and an exciting 'sleep out' experience. There will be 2 nights in the intimate game lodge and one night at a bush hide. Altogether, this is an unforgettable African holiday and it is set at an easy pace so that you can savour every moment.
Day 1: Johannesburg - Polokwane - Northern Limpopo Province (South Africa)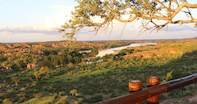 From Johannesburg you take the first scheduled flight in the morning to Polokwane in the Limpopo Province of South Africa, which is a one hour flight. On arrival, you will collect your rental vehicle at the airport and drive about 2 hours to the northern part of the province which borders Botswana and Zimbabwe. The road is tarred most of the way except for a small section of gravel from the main gate to the lodge.
You will spend one night here in a private nature reserve on a game farm. The reserve is home to an astounding array of animals and birds with an impressive diversity of indigenous and endemic botanical life. Your stay includes a guided tour to Mapungubwe Hill, home to Southern Africa's first Kingdom established in the 13th Century and a visit to Mapungubwe National Park.
The well-appointed safari lodge and pool is set in a tranquil garden with uninterrupted views to the horizon. You can relax and enjoy attentive personal service, dinner around the fire under starry skies and falling asleep to the sounds of Nightjars and Jackals or the grunt of a Leopard.
Day 2: Northern Limpopo Province - Northern Tuli Block (Botswana)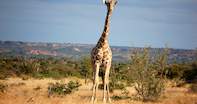 In the morning you can enjoy a delicious breakfast and the opportunity to take a picnic basket out on an activity. The nature reserve is ideal for guided drives and walks, cycling and birding.
Later, you'll check out the lodge and self-drive to the Pont Drift Border Post. The distance is about 40km (25 miles). At the border, you leave your rental car there ready for your return journey, and make your way through Botswana immigration. On the other side you will be met by a representative and transferred by road to the lodge, which is set along the banks of the Limpopo River. Upon arrival you will be warmly welcomed and settled into your room which is home for the next 2 nights.
There should be time to refresh and enjoy High Tea on the terrace before the late afternoon game viewing activity. You will get your first look at the beauty and abundant wildlife of this scenic area. Along the route there will be a stop for drinks and snacks while the sun sets, followed by a twilight drive back to the lodge for dinner, which is usually served outdoors so you can appreciate the velvety night skies.
Day 3: Northern Tuli Block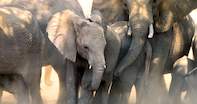 There is plenty to do at this Tuli bush lodge! Your days here include truly exciting early morning and late afternoon game drives as well as brilliant guided bush walks. After your morning activity you return to the lodge for brunch and leisure time. In between game viewing activities you can relax around the lodge pool or at a hide which overlooks a waterhole in the grounds.
Tuli is scenically very different to the rest of Botswana. It is characterised by dominant basalt formations and large areas of dramatic sandstone hills and ridges, mostly dry riverbeds, riverine forests, open grasslands and marshy areas. From vantage points, the plains of Botswana stretch away to the north.
The area is home to a diverse range of wildlife and renowned for its Tuli Elephant herds - the largest Elephant population on private land in Africa. You could also see Cheetah, Lion and even Leopard amongst other fascinating animals. It's a recognised Important Bird Area with over 350 species recorded. Tuli is rich historically also with Bushman paintings and the remains of ancient settlements dotted around the reserve.
Day 4: Northern Tuli Block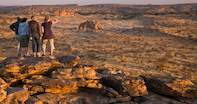 Make the most of another exciting day in Tuli. Apart from game viewing activities you can take time out to enjoy the lodge facilities during the heat of the day. Options include game spotting from a panoramic viewing deck on top of one of the sandstone kopjes (hills) or from seats on the banks of the Limpopo River.
You could set off on a self-guided walking trail around the lodge or simply take time out and browse for a lovely memento at the curio shop. The lodge also offers a variety of additional game drives and excursions such as horse-riding, meaningful cultural visits with the local community, day trips to Molema exploring the natural beauty of this area and a special outing to the confluence of the Limpopo and Shashe Rivers.

The last night of your stay in Tuli is truly extraordinary, as you will be spending it on a sleep-out at a furnished hide on a wooden deck,which is a 20 minute drive from the lodge. Your guide will take you there after dinner in the evening. You could also arrange a romantic dinner at the hide if you choose!
Day 5: Northern Tuli Block (Botswana) - Polokwane - Johannesburg
You'll wake to the sounds of the wilderness and your final day in this pristine part of Africa. Your guide will pick-you up from the hide and take you on a game drive back to the lodge for brunch and check-out.
You will then be transferred back to Pont Drift Border Post for immigration formalities and entry back into South Africa. You will pick-up your car rental and drive back through the beautiful landscapes of the Northern Limpopo Province to Polokwane Airport. Here you drop-off the car and board the scheduled return flight to Johannesburg O.R. Tambo Airport in the early evening.
Included:
Return flight from Johannesburg per scheduled departure
5 days Car Rental, category K = Nissan X-Trail (SUV) or similar ex/to Polokwane Airport
Car Rental super cover insurance and unlimited km
1 visit at Mapungubwe National Park and Heritage-Site Tour
Return transfer from Pont Drift Border Post to the private game reserve in Northern Tuli Block
3 nights in en-suite accommodation and 1 night sleep-out in the hide at Tuli
All meals, plus snacks and refreshments on game drives
Game drives in open 4 wheel drive, in general 2 per day and guided bush walks
Government levies and VAT for Botswana and South Africa
Not Included:
Flight tax and departure tax Johannesburg O.R. Tambo Airport
Visa fees Botswana and South Africa
Car Rental contract fees and additional driver fees, GPS, water, sand and undercarriage damage, fuel and personal travel insurance
Drinks and premium brands, imported wines, champagne, spirits and liqueurs
Laundry service
Optional activities at Tuli Block: horse-riding (no children under 16 years), guided community visit, self-drive trails at Tuli and guided trips
Any gratuities or personal expenses
Rates & Prices
This 5 day Classic Wildlife and Nature Safari Experience Package is based on a minimum of 2 passengers traveling together sharing a double room, and includes scheduled flights ex/to Johannesburg O.R. Tambo Airport and car rental ex/to Polokwane Airport.

This unique African safari package can also be combined with other destinations in South Africa. If you would prefer not to drive yourself, a road transfer ex/to Polokwane Airport and between the 2 destinations can be organized for you on request.