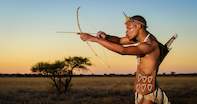 © San tracker at Kalahari Plains Camp
This 5 day Premier Fly-in Kalahari & Okavango Safari tour shows you the contrast between the desert and the delta in different areas of Botswana. Includes flights ex/to Johannesburg.
Accommodation: En-suite canvas units with an outdoor shower
Activities: Game drives, Bushman interaction, bush walks, mokoro activities (canoeing)
Destinations: Maun, Central Kalahari, Okavango Delta
Seasonal: All year around
Classic Fly-in Kalahari & Okavango Safari Experience
This 5 day Classic Fly-In Kalahari and Okavango Safari Package allows you to see the contrast between the arid desert landscape and the oasis of the Delta. The Central Kalahari Game Reserve is one of Africa's largest conservation areas and was originally set aside for the Bushmen to continue their traditional way of life. Now it is opening up to tourists and is a great place to learn about their culture.
Although a desert in name this area of the Kalahari is a place of rolling grass covered dunes and valleys that spring to life after the rains. With little surface water, the species of the Central Kalahari have adapted to survive and thrive in this environment. On your Botswana safari you should see many antelope, including Impala and Gemsbok. This is one of the best places to see Cheetah and you may even see the rare Black-maned Kalahari Lion.
Finally, experience the serenity of the lush Okavango Delta where Lechwe splash through the floodplains, Hippos wallow and you can hear the Fish Eagle's haunting cry. Slip through the maze-like channels of the Delta in a traditional mokoro and explore the palm fringed islands.
Day 1: Johannesburg - Maun - Central Kalahari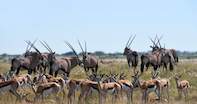 On the first say of your 5 day Classic Fly-in Kalahari and Okavango Safari Package, you will catch a scheduled flight from Johannesburg to Maun Airport in Botswana. Then you will take a light aircraft flight to your bush camp in the Central Kalahari - a great way to put this desolate landscape into perspective!

Once you arrive, you will enjoy a light lunch and have some time to settle into camp. In the afternoon, you will head out on a game drive during which you might see Red Hartebeest and Giraffe, or even Lion. You'll stop off in a scenic spot to watch the sunset and then back at the bush camp, have dinner under a brilliant African Sky.
Day 2: Central Kalahari
You will have an early morning wake-up call, followed by a delicious breakfast before heading out on your morning game viewing activity. Depending on when you go you will have a different experience of the Kalahari, as after the rains, thousands of wildflowers burst into bloom and attract large herds of Springbok and Gemsbok.

In the dry season the landscape dries up and the wildlife concentrates around the waterholes. This is one of the best places in the world to see Cheetah.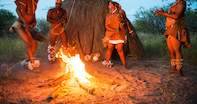 You should also see many Wildebeest, Steenbok and Red Hartebeest, which are closely followed by predators such as Lion, Cheetah and Jackal. The region has one of the highest Leopard populations in Botswana and is one of the only places where you can see Brown Hyenas.You'll return to the bush camp to enjoy a refreshing lunch followed by time to relax.

After a high tea, you may head out on an interactive bush walk with the local Bushmen, who will show you how they survive in this harsh environment. This is also a great opportunity to learn about their fascinating culture.
Day 3: Central Kalahari - Okavango Delta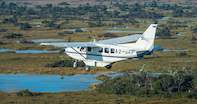 After one last game drive and breakfast you will take a light aircraft flight from the Central Kalahari to the Okavango Delta. The flight takes around 80 minutes. You will enjoy a delicious light lunch before setting out to explore the beautiful channels of the Delta with your guide in a traditional boat called a mokoro.

You may see animals such as Lechwe, Tsessebe, Hippos and Crocodiles. You'll return to the bush camp where you'll enjoy refreshing sundowners while watching the Delta change colours as the sun sets. You'll then enjoy a gourmet dinner by candlelight out on the deck. When you retire, you'll be lulled to sleep surrounded by the gentle sounds of the African night.
Day 4: Okavango Delta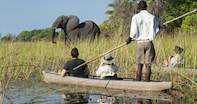 You'll have a relatively early start, depending on the choice of activity. The morning will be spent exploring the intricacies of the beautiful islands, lagoons and floodplains from your mokoro. You might see game including Lion, Elephant and Buffalo. Spend a few hours making new discoveries before heading back to the bush camp for brunch.

Afternoon tea will be served before you set off on a sunset game drive which is influenced by the surrounding water levels. You could explore further afield but this depends on the time of year, with the high water season between June and October limiting the land activities but ensuring spectacular water activities. You'll return to camp in time for a sumptuous dinner.
Day 5: Okavango Delta - Maun - Johannesburg
On the final day of your 5 day Classic Fly-In Kalahari and Okavango Package you will enjoy one final early morning game drive and breakfast. You'll be transferred to the airstrip for the flight back to Maun. After your arrival in Maun you will catch your connecting flight to Johannesburg O.R. Tambo International Airport which arrives in the late afternoon.
Included:
Return flights from Johannesburg per scheduled departure
Light aircraft flights ex/to Maun and tax
4 night's accommodation
All meals and drinks (except premium brands, imported wines, champagne, spirits and liqueurs)
Laundry service
Scheduled camp activities
Landing fee and departure tax light aircraft
Government levies and VAT Botswana
Not included:
Flight tax and departure tax Johannesburg
Visa fees
Premium brands, imported wines, champagne, spirits and liqueurs
Any gratuities
Any personal expenses
Personal travel insurance
Rates & Prices
This 5 day Classic Fly-in Kalahari and Okavango Package includes scheduled flights ex/to Johannesburg O.R. Tambo International Airport. The rate is calculated per person sharing a room.