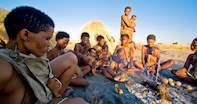 This 4 day Family Fly-in Classic Kalahari Safari Experience is specially designed so that you and your children can enjoy real Bushman interaction and safari activities together in the African wilderness. Includes flights ex/to Johannesburg.
Accommodation: Thatched family chalet with en-suite bathroom, electricity provided by a generator
Activities: Real San Bushman experience, Bushman walks and game drives, horse riding, predator project
Destinations: Maun, Central Kalahari
Seasonal: All year around - dry season May to October and green season from November to April, the best time is April and May
Family Fly-in Classic Kalahari Experience
On your 4 day Classic Kalahari Family Experience you will be based in a private wildlife reserve which is run by a family that has lived in this region for 5 generations. You will enjoy a relaxed and informal Botswana family holiday where there is a sense of home away from home. Your hosts together with their long standing San staff will share their passion and first-hand knowledge of the Kalahari with you.
You and your loved ones will find plenty to do on your Botswana family safari. There is a very comprehensive Bushman experience which the whole family will enjoy, also day and night game drives and you can visit the predator rehabilitation centre on the property. Finally, you can enjoy a horseback safari which is suitable for everyone and where you can get really close to wildlife.
In between action packed family safari activities you can rest and reflect on your experiences in the comfort of the safari lodge. The guest areas and swimming pool overlook a large waterhole where a huge variety of wildlife can be seen. Other fun and cultural activities include joining in on some traditional San games and dances - your children will love it.
Day 1: Johannesburg - Maun - Central Kalahari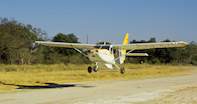 On arrival in Maun from Johannesburg you will connect onto a light aircraft flight from Maun to the lodge airstrip in the Central Kalahari. You will be warmly welcomed on arrival and have time to settle in and refresh. Most of the staff at the lodge are of San descent and you will have your first chance to meet these gentle people.
Following afternoon tea there will be an activity for you to experience. The Bushman cultural experience includes walks with the women of the village into the bush to collect food and also plants for medicinal purposes. The men will show you how to identify animal tracks and teach you bush craft and hunting skills.

You can join in and play some San games using sticks, wild melons, dung and ropes. San cultural dances are also fun to do and you will be shown the steps while the San ladies clap and play their instruments.
Day 2 - 3: Central Kalahari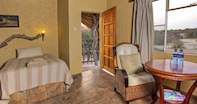 There are many exciting experiences for you and your family to enjoy over the next 2 days, so an early start gets your daily adventures underway. After a wake-up call, tea or coffee and a snack you can set off with your guide on an activity such as a game drive. Brunch is usually served on your return to the safari lodge.

In between activities, you can relax by the pool or have a siesta. Game drives take in stunning Kalahari vistas and you will see big herds of strictly Kalahari game.

A wonderful sight is the silhouette of herds of Eland, Gemsbok and Blue Wildebeest with the sun setting in the background. On night drives you are likely to see nocturnal animals such as Porcupine, Aardvark, Brown Hyena and much more.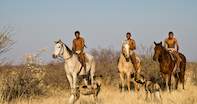 Horseback safaris are offered at the lodge ranging in length from one hour to longer excursions. Outrides are suitable for everyone and the horses are fully trained. On horseback, you can get really close to wildlife. Longer rides are often accompanied by the local Bushmen who will point out interesting features and plants. On the lodge property you are able to visit the predator rehabilitation centre and enclosures where you could see Lions, Wild Dogs, Leopard and Cheetahs.

The centre works hand in hand with the Department of Wildlife to protect the animals and find ways to re-introduce them back into the wild as well as breed the Cheetahs and Wild Dogs which are endangered species.
Day 4: Central Kalahari - Maun - Johannesburg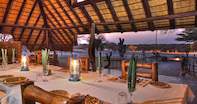 This is the last day of your Kalahari Family Experience. There will be time for a final early morning activity followed by breakfast. You will be transferred to the airstrip for your flight back to Maun Airport, where you connect with your return flight to Johannesburg O.R .Tambo International Airport, with arrival in the late afternoon.
Included:
Return flights from Johannesburg per scheduled departure
Light aircraft flight ex/to Maun
3 night's accommodation
All meals, teas, coffees, snacks and drinks
Bushman walks and game drives
Horse riding if requested in advance
Park fees
Laundry service
Scheduled camp activities
Landing fee and departure tax light aircraft
Government levies and VAT Botswana
Not included:
Flight tax and departure tax
Premium brands, imported wines, champagne, spirits and liqueurs
Optional activities
Rates & Prices
This 4 day Family Fly-in Classic Kalahari Experience Package is designed for a family of 4 people, with 2 children between the ages of 2 and 11 years, sharing a family unit on a per person rate. This Botswana package includes scheduled flights ex/to Johannesburg O.R. Tambo Airport and light aircraft flights ex/to Maun.