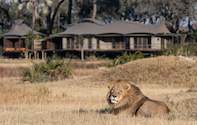 At Xigera Safari Lodge you'll have a part of the Okavango Delta all to yourself. It's a little private paradise where your Botswana safari unfolds in beautiful surroundings, within the Moremi Game Reserve.
Lodging: 12 en-suite tents on wooden platforms with great views
Activities: Mokoro rides, boating, game drives (water levels permitting), seasonal fishing
Location: On an island at the centre of the Delta, in Moremi Game Reserve
Xigera Safari Lodge (pronounced Kee-jera) is surrounded by a lily covered lagoon deep in the wetlands. The water mirrors the blue sky and every day is a delight for the senses. Birdlife is abundant and your Botswana safari is quite likely to include sightings of the delicate and rare Sitatunga Antelope. This reedy environment is their natural habitat and one they have adapted to living in.
Permanent water all year at Xigera Safari Lodge means wonderful water activities. Mokoro rides offer the ultimate Okavango experience - sitting in a dug-out canoe that is pushed through the water by an expert poler/guide is a unique and lovely thing to do. The gentle swaying of the canoe induces a calming state of mind so every detail of your surroundings becomes crystal clear.
The winding channels and waterways can also be explored by boat, but however you travel on the water you can see wildlife at the water's edge, bustling birdlife and small creatures in the lush vegetation. When water levels permit, game drives take place and in dry years they are a daily occurrence. You could see Lion, Spotted Hyena, Buffalo, maybe Leopard and many other species.
This watery haven is a great place to see Pel's Fishing Owl amongst an impressive birding line-up. Whatever you are after, your Xigera Safari Lodge guide stands ready to take you on a journey of discovery - this is their home and they know it's every nuance.
Xigera Safari Lodge Facilities
Spa treatments and programmes focused on mindfulness, wellness and holistic healing
State-of-the-art gym
Swimming pool
Boma for stargazing and storytelling
Waterside lounge with a copper-clad fireplace
Interactive open kitchen-dining room
Bar with a world-class wine list