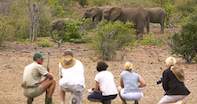 The Tuli Block features the largest privately owned game reserve in Southern Africa. A Tuli safari offers something uniquely different from any other Botswana safari. The spectacular landscape is grand in its proportions with wildlife to match.
Access
Tuli is located on the border of Botswana and South Africa which is created by the mighty Limpopo River. Tuli can be accessed by 2x4 vehicles (only up to a point on both sides of the border) and by 4x4 vehicles on self-drive itineraries from South Africa via Pont Drift border post, and from Botswana via Palapye.
When the Limpopo River is in full flow, you can only cross it by cable car (no vehicles). Air charter flights can be arranged to the private airstrip in the Northern Tuli Game Reserve where there are passport control facilities. Pont Drift border post is open between 08h00 and 16h00 and these times are strictly adhered to.
Airport
You can fly directly from Johannesburg to the Limpopo Valley Airfield (Northern Tuli Game Reserve) in Botswana and then transfer by road to your Tuli lodge. Alternately, you can fly to Polokwane Airport in the northern Limpopo Province of South Africa and then self-drive from there onward to Pont Drift border post. There is also the possibility of connecting with certain charter flights from Gaborone in Botswana to Limpopo Valley Airfield.
Regions
Tuli in Botswana is sandwiched between South Africa and Zimbabwe on the far north-eastern border. The Tuli Block was consolidated into conservation land from smaller farms to create the Northern Tuli Game Reserve (NTGR), which includes Mashatu Game Reserve, and a wider safari area with lodges and facilities.
The NTGR will form part of the Limpopo Transfrontier Park which is an initiative between Botswana, South Africa and Zimbabwe to manage this corridor of land. Tuli is defined by 3 great rivers, the Limpopo, the Shashe and the Motloutse.
Highlights
Tuli is majestic in so many ways and you really get a sense of Africa's wondrous proportions. The wide blue skies frame grassy plains and huge rock formations, while towering trees guard the riverside. You'll see massive numbers of Elephant and also the full range of big cats due to an abundance of plains game.There are almost no fences, so game roams freely in this area. Birdlife is excellent with brilliant variety in around 350 species. Tuli is steeped in history and evidence of its amazing past can be found in a number of places which focus on different eras. The range of activities available in Tuli is inspiring and you will never have a dull moment.
Activities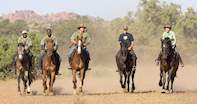 Game drives (day and night), bush walks and trails, horseback trails, camping safaris, mountain bike safaris, cultural village tours, day trips.
Climate
The Dry Winter Season - May to September
The foliage is much less during this season which means you can see animals clearly in the bush on game viewing activities. The days are still warm but the temperature drops at night in the coolest months from June to August.
The Wet Summer Season - October to March.
The hottest months are from December to February. Rainfall occurs at any time during this season and the landscape becomes lush and green. Certain species give birth which is a delight to see and birdlife is very active with nesting and migrant arrivals.
The Experience
Tuli offers a land of contrasts - it's different and special in its variety. The landscape is grand with unusual features. You can have all kinds of adventures here but even the game drives are exciting in this scenic setting and night drives are a speciality. Many animals can be seen passing through on their migratory routes and Eland is commonly spotted which sets Tuli apart from other areas in Botswana - just another one of its many attributes.
Tuli is known as the Land of Giants because it hosts a variety of animals which are the largest of their kind in Africa - the Elephant (largest land mammal), the Lion (biggest cat), the Giraffe (tallest mammal), the Eland (largest antelope), the Ostrich (largest bird) and the Kori Bustard (the heaviest flying bird). But that is not all, Cheetah and Leopard are present and Hyena plus many other fascinating species.
Unusually, many types of birds share this spectacular corner of Africa - you'll find land and water birds plus unexpected variety to spice things up. Keep a look out for Black Eagle, Verreaux's Eagle, Lappet-faced Vulture, Pel's Fishing Owl, Ground Hornbill, Kingfishers, Cormorants, Saddle-billed Stork, Bee-Eaters and even Meyer's Parrots.
History buffs will be rubbing their hands in glee on safari here, as Tuli displays archaeological evidence from the long distant past - Dinosaur footprints at Vhembe, Stone Age quarries and tools alongside San rock art, Iron Age settlements, plus more recent sites of clashes between the British and Boer forces. Mapungubwe Hill and its treasures can be visited on a day trip into South Africa.
Tuli Block Accommodation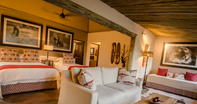 You can select your Tuli Bllock safari accommodation from a handful of lodges to suit a range of budgets. Mashatu Game Reserve has 2 options Mashatu Main Camp and Mashatu Tented Camp for day and night drives, bike or horse safari activities plus overnight trails on foot or by mountain bike, specialist guided adventures and cultural excursions.Tuli Safari Lodge is a great family lodge with game drives, bush walks and trails, horse riding, cultural excursions and historic day trips. Shalimpo Game Lodge has an excellent position at the confluence of the Shashe and Limpopo Rivers and focuses on game drives and birding.
What you need to know
This is a malarial area. so precautions are advised.
Mosquitoes are more prolific in the summer months and you can deter them by covering up exposed skin particularly around wrists and ankles and especially at sunset. Prepare for the warm temperatures in Tuli. Safari activities occur in the cool morning and evening hours to escape the midday heat. Daytime is always hot with a small dip between June and August when the night-time is chilly.