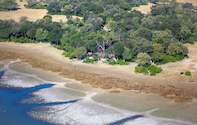 Kwara Camp is in the heart of a private wildlife concession bordering the famous Moremi Game Reserve of the Okavango Delta.
Lodging: 9 comfortable, spacious and exclusive guest tents
Location: Located close to Shinde but based on the mainland of the Okavango Delta
Activities: Mokoro (canoe) excursions, bird watching, nature walks, fishing
The permanent waterways and lagoons wind their way around the area and Kwara takes advantage of this by offering adventurous double-deck boat trips for cruising or fishing, and fabulous game drives and walks for a thrilling Botswana safari.
Hidden on a large tree island surrounded by massive 'Fireworks' trees, is the small well-camouflaged Kwara Camp. Under this dramatic canopy Kwara's East African style tented rooms are well hidden. The tents are positioned above the ground on teak decks with a small private balcony and wonderful views of the plains or lagoons of the Okavango Delta in Botswana.
Kwara Camp is one of very few Okavango Delta camps that can offer such a wide range of activities all year around. These include special powerboats that skim the top of the water, mokoro (dug out canoe) trips, off-road driving, night drives and walks through big game country on safari in Botswana. You can also try fishing for tiger fish, bream and catfish from March to December.
There are lots of animals around, especially elephants, and the birdlife is truly wonderful. From September to December thousands of birds and their young gather at the Godikwe Lagoon nesting grounds and the double-decker boat comes into is own as an excellent viewing platform.
The emphasis at Kwara Camp is on the game and water experience but back at camp the friendly staff await with a fully stocked bar and good home-cooked food.