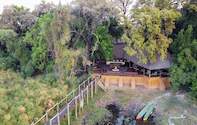 The personalised service and unique style of this secluded Okavango Panhandle lodge showcases the Okavango Delta's renowned beauty and astonishing birdlife.
Your Okavango Panhandle Lodge Safari Experience
Lodging: 8 en-suite chalets with decks overlooking the water.
Location: Extremely tranquil setting on the Panhandle, Okavango Delta
Activities: Birding safaris, fishing, boating safaris, Tsodilo Hills rock art
Intimate and stylish, this Okavango Panhandle Lodge in Botswana is surrounded by water and protected by indigenous forest. Wonderfully peaceful and private, this is a prime fly-fishing and birding destination where guests can't help but relax in such a verdant setting.
The site of Nxamaseri Island Lodge was selected for its great natural beauty and seclusion. An original Okavango Panhandle Lodge, Nxamaseri is the only one of its kind in the Panhandle. The focus of the lodge is on attention to detail, fabulous food and exploring the lush waterways and sacred Tsodilo Hills.
Only semi-aquatic animals can survive in this environment amongst prolific birdlife - at least 350 of 500 species found in Botswana live here. The owner of Nxamaseri Island Lodge is a pioneer of fly-fishing in Botswana and guests can enjoy this or tiger and bream fishing adventures from shore or by boat. Other activities include excursions in a traditional mokoro canoe, guided island walks and fabulous birding safaris.
Nxamaseri Island Lodge meals can be enjoyed in the outdoor dining area, followed by a drink around the campfire. There is also a bar, curio shop and swimming pool set in a secluded setting.