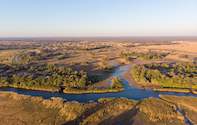 The Okavango Panhandle, Okavango Delta, Botswana is a permanent swamp with lush scenery and a network of reedy channels, rivers and islands
Magnificent water lily encrusted channels characterise the Okavango Panhandle, Okavango Delta, Botswana. This beautiful area is close to the mysterious Tsodilo Hills, a sacred place of the San people. Nxamaseri Island Lodge works closely with local communities to protect and conserve the environment through eco-tourism projects.
Nxamaseri Island Lodge has a hidden location on the fringe of the Okavango Panhandle, Okavango Delta, Botswana. This large, shady island is the ideal setting on the Nxamaseri Channel. The waterways are alive with fish and wildlife such as crocodile, hippos, otters, semi-aquatic antelope and many birds. One of the highest concentrations of Fish Eagles in Southern African is found at Nxamaseri.
The ancient Tsodilo Hills have been a site of huge spiritual significance to the San people for more than 2 000 years. At least 3 500 San Rock Art paintings have been found – one of the biggest collections in Africa. The Tsodilo Hills are the only ones in this area and form the highest point in Botswana, breaking the endless landscape of the Kalahari.
Climate
The wet season is from late November to February, with some rainfall in March. The rain falls usually in a short afternoon shower between sunny periods. The average temperature at this time is 30 degrees Celsius / 86 degrees Fahrenheit. The evenings remain warm but it is advisable to wear long sleeve shirts and long trousers as protection against mosquitoes. The dry season is from April to October (the hottest month just before the rains).
May to July is the winter season and the floodwaters are at their highest and clearest in June and July. Temperatures at this time average 22 degrees Celsius / 72 degrees Fahrenheit but drop at night. It is advisable to bring warm jackets scarves and hats - especially for evening boat excursions.
Access to Nxamaseri Island Lodge
Nxamaseri Island Lodge is located about 10km (6 miles) from the edge of the mainland.
Self-drive
Guests can park their vehicles at a car park just off the main road for an arranged transfer in a 4x4 vehicle to the lodge (30 - 60 minutes depending on the water levels). From Mohembo Border (access to the Zambezi Region/Caprivi in Namibia) to Nxamaseri turn off is 45-minutes. From Maun to Nxamaseri turn off is 4 – 5 hours.
Fly-in
Flights can be arranged from Maun, Kasane and Victoria Falls. Guests will be met and transferred in a 4x4 vehicle from Nxamaseri Airstrip to the lodge which takes 30 minutes. Flood season May to September: During these months all guests are met at either the airstrip or car park and transferred by boat to the lodge.