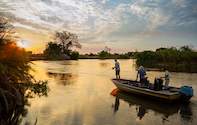 On a Botswana holiday at Nxamaseri Island Lodge, guests enjoy guided island walks, visits to mysterious Tsodilo Hills, water-based safaris, birding and fishing.
Nxamaseri Channel Okavango Delta activities include blissful excursions in a traditional dug out canoe, lure or fly-fishing, boating safaris, day and night birding trips, viewing San rock art and guided island walks.
Nxamaseri Island Lodge is ideal for a relaxing Botswana holiday deep in the Okavango Panhandle, surrounded by indigenous forest and the comforting chorus of birds. Guests can sit back, soak up the atmosphere and enjoy stunning views over the peaceful, lily covered waterways glistening in the sun.
The channels of the Okavango Panhandle are alive with wildlife and birds. Sightings of the delicate Sitatunga (semi-aquatic antelope), hippo, crocodile, otters and monitors are common on excursions. There are at least 350 bird species living in this region alone, out of 500 in the whole of Botswana - sought after species include Pel's Fishing Owl, White-Backed Night Heron, African Skimmer and Western Banded Snake Eagle.
Nxamaseri Island Lodge gives its guests a rare opportunity to visit the mysterious Tsodilo Hills located nearby, one of Botswana's greatest treasures. This sacred site has 3 500 San Rock Art paintings depicting the life and times of these fascinating inhabitants of Africa. Guided nature walks are also offered on islands in the Delta.
This Okavango Panhandle lodge was one of the first ever established in this area. Nxamaseri Island Lodge is now a premier fly-fishing destination. Guests can also fish in deep water from a boat or sandbank for tiger fish and bream.
Activities
Birding (by boat or on foot, day and night)
Mokoros (traditional dug-out canoes with a poling guide)
Boating excursions in the deeper channels of the Okavango
Fishing for tiger fish and bream as well as fly-fishing
Guided island walks
Tsodilo Hills cultural experience and rock art