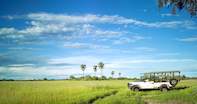 The 5 day Premier Fly-in Essential Okavango safari tour in Botswana offers a selection of dramatic wildlife areas with some of the finest game viewing in Africa. Includes flights ex/to Johannesburg.
Accommodation: Luxury suites in small camp, with en-suite baths and private game viewing decks
Activities: Day and night game drives, boat cruises and mokoro rides, nature walks and Elephant encounters
Destinations: Maun, Okavango and Moremi Game Reserve
Seasonal: All year round, with a peak from June to October which is the best time
Overview
Premier Okavango Safari Tour Experience
This 5 day Essential Okavango safari tour takes you into the heart of the Okavango Delta where premier accommodation and exceptional wildlife viewing combine for a remarkable experience. You'll dine in style and savour a range of traditional activities that will live long in your memories.
Activities in these pristine wetlands range from water-based game viewing to canoe safaris and game drives to personal interaction with Elephants. Your knowledgeable and passionate guides share their personal insights with you which greatly enhance your Okavango safari tour in Botswana.
On a mokoro ride with your poler / guide through the reed-fringed channels of the Delta, you can sit back and admire the scenery. With your camera and binoculars at hand, you will be rewarded with snapshots of colourful birds and wildlife which can only be found in the Delta. Game drives take place in game rich areas and you can also enjoy guided nature walks on the islands on your Okavango safari tour in Botswana.
Day 1: Johannesburg - Maun - Okavango Delta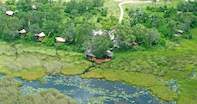 Today your Okavango safari begins. You will have a morning flight from Johannesburg to Maun per scheduled departure which then connects with your flight to the Delta.
The lodge where you will stay for the next 2 nights is in the seasonal floodplains of the Okavango, providing drama and excitement at every turn. Once you have settled in and refreshed after your journey, there will time for an afternoon activity. There is something special about this area during the dry season and the floodwaters are at their highest - your experienced guides will explain this phenomenon to you in detail.
Day 2: Okavango
Your activities today will depend on the water levels and could include game drives, boat rides or nature walks and the highlight of all - the personal interaction with semi-habituated Elephants. During a walk with the Elephants you will become acquainted with these gentle giants and learn a little more about their habits. This is a life changing experience, and one you will treasure for years to come.
The afternoon activity allows you to gain more insight into this unique region as you explore the floodplains and the islands. Sundowners can be enjoyed at a scenic spot before returning to the lodge for dinner. As you sit around the campfire or lie in your bed you will be overwhelmed by a sense of having done something special.
Day 3: Okavango - Moremi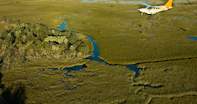 Today there is a short flight across the Delta to the Moremi Game Reserve where you will spend the next 2 nights in an area that is thought by most people to be the predator capital of Africa. This region is a place of choice for countless wildlife documentary makers, and you will be awed at every turn. There will be time for an afternoon activity before a sumptuous dinner under starry skies.
Day 4: Moremi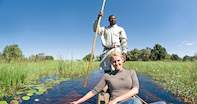 You rise early today in anticipation of what lies ahead today. The afternoon drive the day before was just an introduction of what this legendary area has to offer. Nutritious floodplains and islands provide a haven for abundant wildlife, which also attracts predators in numbers. You will come to appreciate the Africa of old here as well as the exceptional beauty of this area.
During the heat of the day you could have a siesta or opt for a wellness spa treatment before the afternoon drive. Your experienced guides know the individual animals and their habits and will search for the best game viewing opportunities. There is much to see but you may have time for a sundowner before heading back to the lodge.
Day 5: Moremi - Maun - Johannesburg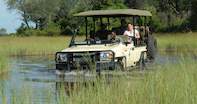 There will be time for a last exciting activity before catching a flight to Maun for the connection to Johannesburg.