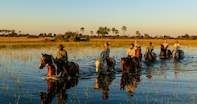 The 4 day Classic Fly-in Okavango Horseback Safari takes you on a thrilling ride among the wildlife across the floodplains of the Okavango Delta. This Botswana safari package includes flights ex/to Johannesburg with no set departure date and return light aircraft flights from Maun into the Okavango Delta.
Accommodation: Comfortable twin-bedded safari tents
Activities: Morning and afternoon game viewing on horseback (you must be a competent rider as you spend 4 to 6 hours a day in the saddle), guided walks and game drives
Destinations: Maun, Okavango
Seasonal: All year round destination however the best time is July - October
Classic Fly-in Okavango by Horseback Experience
Experience the thrill of riding across the beautiful floodplains of the south-western Okavango, traversing watery meadows and palm-fringed islands. The terrain you travel over is varied and you need to be an experienced rider as you spend most of the day in the saddle. At the end of the day you will return to the bush camp and the comfort of your safari tent.
You will be able to really approach the local wildlife as they will focus on the horses and not be spooked. This allows you to enjoy some amazing game viewing experiences - imagine cantering along with Giraffe or a herd of Lechwe. You will ride at all different paces from a comfortable trot to full on gallop should you need to flee any trouble.
On your Botswana safari you'll also get to enjoy other activities, such as game viewing boat rides - this is a great way to see Hippo and Crocodiles but only possible when water levels are high enough. You will also go on night game drives, which will allow you to see the animals that are active at night and perhaps even a Lion kill.
Day 1: Johannesburg - Maun - Okavango Delta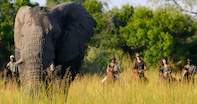 On the first morning of your Botswana tour you will fly from Johannesburg to Maun, where you will catch a light aircraft onward to your bush camp. This is a very scenic flight that takes you into the south western region of the Okavango Delta.
Once you have settled into camp and had a light lunch and time to rest, you will be introduced to your horse for the trip. This will be followed by an afternoon game viewing ride. You may see Buffalo, Zebra and Hippo and can try and spot the rare Sitatunga. You'll return to camp and enjoy a delicious candlelight safari dinner.
Day 2: Okavango Delta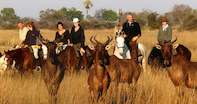 Wake up and enjoy tea or coffee in bed, followed by light continental style breakfast. You will head out of camp and enjoy an exhilarating ride. You may have to swim one of the channels depending on the season. On your horseback safari, you'll ride among antelope such as Wildebeest and Zebra. You may see Buffalo, Giraffe and Elephant among other animals.
Once you've worked up an appetite, you'll return to a tasty lunch at the camp. After a midday rest, you'll probably change horses and set out for a more sedate evening game ride. You may see Leopard in the riverine bush, or Elephant coming down to drink. You'll stop in a scenic spot where you can enjoy refreshing sundowners before heading back to camp to enjoy a delicious dinner.
Day 3: Okavango Delta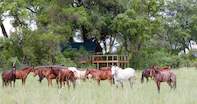 Once again you'll receive an early morning wake-up call, followed by tea or coffee. You could choose to go on another horseback ride in search of Lechwe or Sitatunga, or head off on a guided walk, a game drive, or try your hand at a spot of fishing from the boat.
Later in the morning you'll return to camp for a delicious champagne breakfast under one of the large baobab trees. After lunch you can take the opportunity to relax and perhaps enjoy a swim in the pool.
In mid afternoon a delicious high tea is served followed by a sunset ride, exploring the lower flood plains where Elephant often gather. Being on horseback allows you to approach closer to these amazing animals. After sundowners, you'll return to camp for a sumptuous dinner under the stars.
Day 4: Okavango Delta - Maun - Johannesburg
In the morning you will enjoy a final game ride through drier country. Perhaps you'll see the Elephants one last time or gallop along with the Buffalo before heading back to camp for an English breakfast cooked over an open fire. You will then catch a flight out of the Okavango Delta to Maun where you will get the connecting flight back to Johannesburg.
Included
Return flight Johannesburg per scheduled departure
Light aircraft flight ex/to Maun
3 night's accommodation en-suite/sharing basis
All meals and local beverages
Riding and non-riding activities