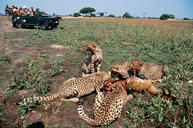 The Okavango is rarely mentioned when the world's natural wonders are discussed but for those who have experienced the drama of the arrival of the annual floodwaters on the dry plains of the Okavango Delta it is easily one of nature's most dramatic occurrences.
Okavango Delta Journals
Okavango Journals: June 29:
The water has spread a great deal over the past few days, raised land has become islands again and from where the hooves of animals were kicking up dust the sound of splashing can be heard. The testosterone-filled screams of tiny frogs fill the evening air and carry on well into the night.
It is a time of re-adjustment for the denizens of the Okavango - at a time when the dry season is well advanced. The contrasts will be dramatic as the land dries and the floodplains green up with the advancing water'.
Echoes of Eden

Making it even more exceptional is the fact that the waters generally arrive on the dry floodplains months after the last rains have fallen in the area. Situated in the heart of the Kalahari Desert the Okavango Delta is a unique place of swamps, islands, lagoons, forests and arid grasslands - and exceptional wildlife.
Despite the fact that the nature of the seasonal flooding is not well known the Okavango is nonetheless an iconic African safari destination.
Okavango Journals: October 17
'The water has dropped considerably over the past week, floodplains are opening up and the new grass is pushing through - although it quickly withers in the excessive heat. Animals are congregating on the floodplains to utilize the new grass and the sky is showing a promise of a change in season, although it could be weeks before the first rains fall. It is a time of expectation ....'

By Leigh Kemp