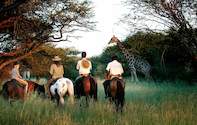 Thamo Telele attractions and activities range from giraffe encounters, game walks, horseback safaris, mountain biking, and scenic flights over the Okavango Delta.
The attraction of Thamo Telele is its relaxing out of town location, away from dusty sleepy Maun, which is little more than a stopover point for the Okavango Delta. Thamo Telele offers comfortable and stylish accommodation in Maun making it the perfect place to start or finish your Okavango safari.
This Botswana lodge has marked walking trails for guests to explore and view the game and birdlife. These safari walks are a great opportunity for unusual but safe up-close encounters with African wildlife such as Giraffe and kudu.
Guests can go an amazing horseback safari rides on their Botswana safari. This is a great way to get within feet of the wildlife, safaris can be arranged within the reserve or along the river.
Other activities at Thamo Telele include scenic flights in either a fixed-wing or a helicopter which gives guests amazing views of the Okavango Delta. Another popular activity is Birding with over 300 species of birds being sited around the lodge. Bird lovers should spot between 50 and 70 species of birds in a day and opportunity to add new birds species to the bird sightings list.