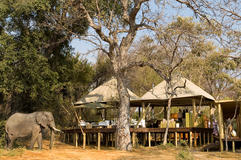 © Elephant at Xaranna Camp
The Moremi Game Reserve is situated in the Okavango Delta in Botswana. This reserve may be small by Botswana standards, but it has a diverse array of habitats and is home to a vast profusion of wildlife including Africa's Big Five, making it an ideal destination for a Moremi safari.
Moremi Game Reserve is nearly 5000km square which is small when compared to other reserves in Botswana. It protects a huge central portion of the Okavango Delta. It is
divided into 4 main areas
- Chief's Island, Khwai River, Xakanaxa Lagoon and Third Bridge. Each area has its own unique characteristic vegetation and the reserve is home to one of the densest populations of wildlife on the planet.
Chief's Island
Chief's Island is the largest piece of solid ground in the Moremi Game Reserve. This was the traditional royal hunting ground of the Batawana Chief Moremi III. The local people decided to incorporate it into the Reserve in 1973.
This is one of the best game viewing areas of the reserve when on a Moremi safari. It is considered to be a private concession and can only be accessed by people staying in the luxury lodges located on the Island. The camps offer a wonderful Okavango experience, although they have to abide by the parks rules, such as the fact that there can be no walking safaris or night game drives.
The Island is dominated by large mature Mopane trees that are referred to as Cathedral Mopane. The Island offers some of the best game viewing in the Okavango, and is one of the best places in Moremi to possibly see the Big Five, as Rhino have been reintroduced on the island.
There are two main camps on Chief's Island, Mombo Camp and Chief's Camp. There are also several camps just other side the island such as Gunn's Camp. See more Chiefs Island Safari Lodges in Moremi.
Khwai River
This is the region of Moremi that is most accessible for guests who wish to do a Moremi self-drive safari. The entrance to the reserve here is often referred to as North Gate. There is a grassy, wide open floodplain that is fringed by pretty woodlands.
The game viewing in this region is generally good. You'll see quite a bit of plains game such as Zebra and Impala. Large herds of Buffalo and Impala move though the Mopane forests in the dry winter months.
There is a public camp at South Gate, but otherwise you will have to stay at Khwai River Lodge which is situated on the other side of the Khwai River. This is in a very beautiful area and overlooks the Moremi Game Reserve.
Xakanaxa Lagoon
Situated right on the tip of what is referred to as the Mopane tongue is Xakanaxa Camp, this is a very beautiful area of Moremi. Here the butterfly leafed Mopane Trees give way to deep waterways and picturesque floodplains.
It is also one of the best game viewing areas in the Okavango. There are many animals such as Lechwe, Impala, Buffalo, and Elephant and Leopard and Cheetah are often seen near camp. The area also has varied birdlife with Storks, Buzzards, Herons and Egrets, including the rare Slaty's Egret.
Third Bridge
Third Bridge is just a short way from Xakanaxa in the heart of the Reserve. It stands on an
Island surrounded by wide open plains
dotted with thickets. There is a campsite for mobile safaris and the animal population is dense. As it is on the edge of the Delta, boating trips will often depart from this point.
South Gate
This aptly named gate is the southern entrance to Moremi. It is about 100km (62 miles) from Maun.
This area has thick Mopane forests
and is home to large herds of Elephant in the winter months. There is a fairly basic campsite here that is used by mobile safaris. Just outside the reserve there are open plains and lots of Acacia trees and your chances of seeing Giraffe are good.
A collection of Moremi safari lodges and bush camps located in and around the Moremi Game Reserve, Botswana, inclusive of individual suites and family-friendly......
more
From a classic getaway to an adventurous exploration in Moremi Game Reserve, Botswana, this selection of Moremi safari tour packages has an option for all safari-goers. Enjoy a Moremi safari package holiday...
more