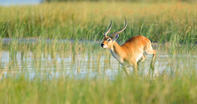 The Kwando Concession, covering roughly four thousand square kilometres lies on the northern edge of Botswana bordering Namibia across the Kwando River.There can only be a maximum of 36 people at one time on the Kwando Concession. Given the Kwando's 80 kilometres of river frontage the travellers will see a high variety of wildlife.
During the drier months when migratory animals join the resident population at its local water sources in the Kwando Concessions, you will most probably see its wild dogs which it is famous for on the vast plains. Other wildlife you can experience is leopard, lion, cheetah giraffe different buck and the tsessebe as well as many others.
There are only the Lagoon Camp and Lebala Camp in the Kwando Concession which makes for a remote and wild safari experience. In the peak flood months from June to September you can do a mokoro trip on the Kwando river in between the scattered palms and tree islands or otherwise do some fishing and walking safaris.
Kwando Safaris in Botswana