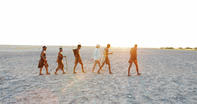 The Makgadikgadi Salt Pans in Botswana are the natural remnants of a once great lake that dried up approximately two thousand years ago and is now thought to be one of the largest salt pans in the world. Most notable of the sea cracked, salt encrusted pans are the Sowa, Ntwetwe and Naxi Pans of the Makgadikgadi.
The usually dry and harsh shallow pans come alive during the summer rains as they pans fill with water and attract a large number of flamingoes, pelicans and many other migratory birds. The presence of large herds of plains game in the pans attracts an impressive range of predators. The wide open lunar expanses of the pans are best explored on a guided quad bike safari and game drives where one revels in the feeling of escapism and isolated natural beauty.
Nxai Pan is one of the smaller pans and an area of extensive grasslands. This area is graced by a striking group of Baobab trees, also known as "Baines Baobab" after a painter named Baines did a painting of the in May 1800's.
The Tsodilo Hills in North Western Botswana is a UNESCO World Heritage site due to the unique religious and spiritual significance to the local community and the San Bushman. This site is considered scared and contains more than 4,500 rock paintings dated approximately 10,000 years ago and depict life in the Kalahari Desert over many millennia. See Makgadikgadi Pans lodges in Botswana below.