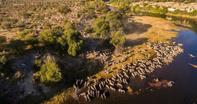 The Makgadikgadi Pan National Park lies in the dry savanna of north-eastern Botswana and is one of the largest salt flats in the world. It consists of many pans with sandy desert in between of which the largest is the Sua, Ntwetwe and Nxai pans. The Main water source of the Makgadikgadi Pan is the Nata river and the smaller Boteti River from the Okavango Delta.
Kubu Island is an igneous rock "island" the lies in the Sua Pan and is a protected national monument because of a number of Baobab Trees.During the rainy season you will find migrating animals including wildebeest, zebra and the large animals that prey on them as well as the White Rhino which was successfully re-introduced into the area. The second largest Zebra migration in the world takes part here in the dry winter months. In the wet season you will find one of only two breeding populations of greater flamingos in Southern Africa and only on the Sua Pan.
On the fringes where the grasslands are you will find the endemic Makgadikgadi spiny agama Lizard and other species of lizards, tortoises, snakes and rock monitors. Makgadikgadi Pan National Park safari lodges and tours in Botswana are recommended below.