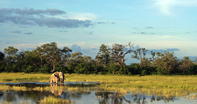 The Linyanti is a region in the north western corner of the Chobe National Park in Botswana. The Linyanti swamp lies between the Kwando and Linyanti rivers. The remote, unspoilt Linyanti floodplains consists of lagoons and waterways.
Linyanti attracts the world's highest densities of elephant in the dry winter months as well as zebra, giraffe, buffalo, roan antelope and impala and is considered to be the most beautiful part of the Chobe National Park.
There are 3 luxury camps located in this area which includes the Savute Channel which famously stopped flowing between 1980 and 2008 and then surprisingly started flowing again. You can do all sorts of activities in the Linyanti area which includes day and night game drives, boating, fishing and birding.
Linyanti Safari Lodges and Package Holidays