Safari in Moremi Reserve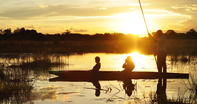 The Okavango Delta is largely protected by the Moremi Reserve on the central and eastern sections of Botswana and is acclaimed to be one of the finest game viewing locations on the planet.
Dominated by floodplains, Lilly covered wetlands, ravine woodland, forest and grasslands. Moremi Reserve attracts a sizable amount of game especially between the months of March to September, when the waterways of the Delta flood whilst majority of the country is dry.
Sightings of Zebra, Elephants, buffalo, plains game, wild dog, predators and a birdlife is excellent, the only large mammal which cannot be seen here is the Rhino. See Moremi Reserve safari lodges and tours in Botswana below.