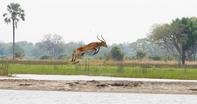 Shinde Island is a palm-dotted island to the north of the Moremi Game Reserve situated in the Northern Okavango Delta in Botswana. The waterways and wide open floodplains allows for spectacular sightings of bird and animal life.
Shinde Island in the Okavango Delta is dotted by mangosteen, ebony and marula trees. The marula trees have marula fruit which the elephant loves. The Sitatunga that you will find on Shinde Island is a member of the antelope family with elongated splayed hooves which enables it to walk on unstable beds of reeds that floats on the water. You can also do a trip to the see the breeding colonies of pelicans, storks and egrets.
Accommodation on Shinde Island which is a private concession is in tented chalets with all modern facilities. All the game activities including mokoro rides through the waterways, 4WD in the morning, afternoon and evening game drives, fishing trips, Motor-boat trips to Gcodikwe Lagoon and guided walks are for the exclusive use to guests of Shinde Island. See Shinde Island safari in Botswana below.