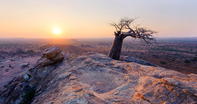 The largest private game reserve in Southern Africa, the Mashatu Game Reserve lies in the eastern corner of Botswana known historically as the Tuli Enclave. The Mashatu Reserve shares unfenced borders with the South African and Zimbabwean national Parks which makes it a cross boundary wildlife conservation area.
In this perfect location for wildlife safaris you will find the Lion, cheetah, leopard, spotted Hyena African wildcat, Elephant, Eland, giraffe as well as ostriches. The great Baobab and Mashatu trees are strewn over this private game reserve which consists of open plains, marshlands, forests, savannah and riverine.
Mashatu Game Reserve safari activities to take part in are horseback safaris, mountain bike safaris, walking safaris, cultural safaris and photography. Mashatu Game Reserve safari lodges in the Tuli Game Reserve in Botswana.